World news story
UK Secretary of State for Business, Innovation and Skills visits Jordan
Minister: "I am excited to be able to introduce some of the UK's largest businesses to the growing opportunities in Jordan."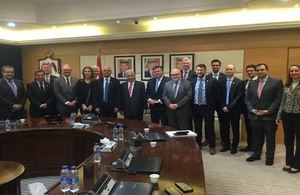 The UK Secretary of State for Business, Innovation and Skills, Sajid Javid accompanied a delegation of UK businesses seeking investment and trade opportunities in and with Jordan, to strengthen partnerships and build the prosperity of the two countries.
The Business Secretary also took the time to meet a selection of young Jordanian entrepreneurs and learn about the small business future of the country.
Building on the growing business relationships between the UK and Jordan will promote economic stability, which in turn supports economic and national security. Business investment and economic relationships are a more sustainable way of addressing many of the issues affecting the region. Trade between the UK and Jordan grew by 30% in 2014 and UK programmes have helped to leverage up to $500 million in investment into Jordan since 2011.
Business Secretary, Sajid Javid said: "It is obvious that Jordan faces significant regional uncertainty but by building greater business connections and strengthening the economic ties between our two countries we can hope to bring economic and national security. "I am excited to be able to introduce some of the UK's largest businesses to the growing opportunities in Jordan and equally to meet the future of Jordan's small business community."
During his visit, Mr Javid met with H.E. Abdullah Ensour, Prime Minister of Jordan; H.E. Imad Fakhoury, Minister for Planning and International Cooperation; and H.E. Maha Ali, Minister of Industry and Trade. Their discussions focussed on ways to increase UK investment in Jordan and to deepen the already rapidly growing trade links between the two countries.
He also visited the Irbid industrial zone, where he met Governor of Irbid H.E. Saed Shehab and toured a garment factory, to see the skills on offer in the Jordanian economy and to explore business and investment opportunities for UK companies.
In the evening, Mr Javid hosted a reception at the Business Development Centre (BDC) for young entrepreneurs. These successful young business people told their stories of how they started and grew their companies. This event with a range of talented young Jordanian entrepreneurs showed the high potential of the Jordanian private sector.
Mr Javid's visit came in preparation for the World Economic Forum's annual meeting at Davos, on 21 January 2016.
The UK has provided over $0.5 billion in support to Jordan since the start of the Syria crisis. In 2015 alone, UK support was worth over $100 million, half of which was spent in Jordanian communities that are hosting the largest numbers of Syrian refugees.
Published 18 January 2016
Last updated 21 January 2016
+ show all updates
Tagged to Syria Conference topical event page
Added translation