World news story
UK's G8 Sherpa visits Tanzania
Ivan Rogers, the UK's G8 Sherpa and the representative of the Prime Minister, visited Tanzania to consult on G8 agenda.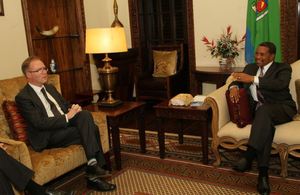 Ivan Rogers, the UK's G8 Sherpa had positive and productive meetings with the President of the United Republic of Tanzania, Jakaya Mrisho Kikwete, Minister for Foreign Affairs, Minister for Lands, Commissioner General of the Tanzania Revenue Authority, Deputy Transport Minister and representatives of civil society, businesses and other development partners in March, 2013 .
The UK is President of the G8 this year. The British Prime Minister David Cameron set out his vision for the UK's G8 Chairmanship at the World Economic Forum in Davos in January: advancing trade, driving forward a more serious debate on tax evasion and tax avoidance and pushing for greater transparency – the "3Ts".
In June, the G8 Leaders will come together to discuss what collective action and commitments they can agree across these issues, including commitments that aim to put the G8 nations' own houses in order. But these issues are also highly pertinent to Africa and to Tanzania.
The purpose of this visit was therefore to learn from Tanzanian experts, hear their insights and experience and explore how best to take this forward. The 3T agenda was well received in Tanzania by the Government and others, with clear interest from many quarters in pursuing collaboration on the three aspects. The UK Sherpa has now taken their input back to London and G8 partners to inform the approach, so that what is agreed at the G8 Summit in June has a real and tangible impact here in Tanzania, across the continent, across the G8 and across the globe.
The UK will continue to take every opportunity to consult with those who have a stake across the key elements of this agenda:
On trade, the UK is seeking to drive further support to progress economic integration through the G8 by building on the work by Trade Mark East Africa to unblock borders working with regional economic communities, governments and businesses. And we'll continue to work through the World Trade Organisation to agree a deal to do away with trade bureaucracy at the Ministerial in Bali in December 2013.
On tax, the UK hopes that the G8 can encourage better ways of sharing information to tackle abuses of the system so that governments can collect the taxes due to them. In a globalised world, no one country can on its own effectively tackle tax evasion and avoidance and so we need to work together to implement and strengthen international tax standards. The UK also plans to scale up work with partner countries to build capacity in tax administration.
On transparency, a new and practical emphasis on transparency, accountability and open government is proposed across a range of issues: extractives; land; beneficial ownership. By supporting practical solutions around open data we can enable citizens to access government information that shows how much money is being paid for their natural resources and help to hold companies to account who might not be paying their fair share of taxes. It's time to shine a light on the corruption that too often holds back development, starting in the G8, and looking at the poor business practices and lack of transparency among those that trade with developing countries.
Published 24 March 2013