World news story
UK Robotics and Autonomous Systems Mission to Taiwan
UK Science and Innovation Network Robotics and Autonomous Systems Mission to Taiwan on 19-24 November 2015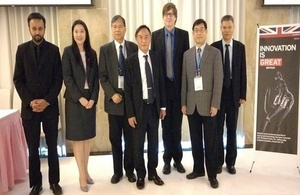 In light of the strong potential synergies between the robotics and autonomous systems industries in the UK and Taiwan, the UK Science and Innovation Network organised a scoping mission seeking for collaboration opportunities between both sides on 19-24 November 2015.
During this mission, Professor Tony Prescott, Director of the Sheffield Centre for Robotics and Professor of Cognitive Neuroscience at the University of Sheffield together with Sebastian Conran, Design Director of Consequential Robotics and CEO Sebastian Conran Associates meet with several leading research institutes in Taiwan, including the Industrial Technology Research Institute, National Taiwan University and National Chiao Tung University. The mission also calls on key local businesses in intelligent automation, smart appliances and healthcare to understand the potential for scientific and research collaboration and to encourage Taiwanese investment into the UK's high quality research and development base.
On 19 November, the UK delegates attended the International Automatic Control Conference (CACS 2015) in Yilan, presenting the overall UK perspectives on Robotics and Autonomous Systems and introducing recent research developments in the UK to local academia and officials at a UK Taiwan Robotics Workshop.
Robotics and Autonomous Systems is one of the "Eight Great Technologies" identified by the UK Government where the UK has particular advantages and where the prospects for future growth and employment in this sector of the economy are particularly strong. The global market for industrial robotics is current worth over US$25bn and is forecast to reach US$37bn by 2018, while the market for professional service robots will increase from US$3.4bn to US$17.1bn by 2016. More than £150 million is currently being invested by both the UK government and industry to support cutting-edge research and projects at UK universities and companies into the development and application of robotics and autonomous systems.
The UK's world-class strengths in the ICT sector, particularly in software programming, data handling and electronics, means that it offers an ideal business and research environment for leading international autonomous systems and robotics companies. This is the first scoping mission to Taiwan from the UK robotics and autonomous systems industries and the British Office will support further bilateral exchanges in this field in the future.
Document information
Published: 19 November 2015