World news story
UK retail strategy launches at the World Retail Congress
From:

Part of:

Published:

22 March 2013
This was published under the 2010 to 2015 Conservative and Liberal Democrat coalition government
UK Trade & Investment (UKTI) launched the UK Retail Industry International Action Plan in at the World Retail Congress Asia Pacific.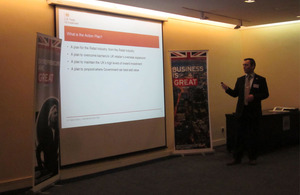 Created in response to the rapidly changing and diversifying marketplaces across Asia Pacific, the World Retail Congress Asia Pacific 2013 goes to the heart of the retail opportunity: servicing new customers across new channels in new markets and bringing over 85 retail leaders sharing global retail intelligence with an Asian market focus.
Briton Terry O'Connor, Chief Executive Officer of Courts spoke at the UKTI-sponsored reception, signalling the UK's strong commitment to forge closer links with Asia's retail industry. UKTI was also a sponsor of the Business Lounge at the Congress. It facilitated a greater interaction for the conference delegates.
A trade mission comprising 10 UK retail-related businesses attended the Congress last week. They met with Asian retailers and potential business partners.
The UK retail sector is one of the most important parts of the UK economy, contributing 5% to its GDP. The Government is committed to supporting international growth and has set an ambition of having 100,000 companies exporting by 2020, while doubling UK exports to £1 trillion.
The retail sector is a crucial part of these plans for growth. 9% of all VAT-registered businesses in the UK are retailers – around 188,000 businesses – and UK retail sector sales were estimated at more than £300 billion in 2011, a 3.4% increase from 2010 and a rise of more than 6% from 2008.
As the UK Retail Industry International Action Plan outlines, support would include assisting up to 1,000 retail businesses with their international growth in the two years to March 2015 with the aim of delivering £500m value to the UK economy, attracting high quality foreign brands and retail expertise to augment the sector's already strong international offer.