World news story
UK represented on High-level Development Conference
DFID's new Deputy Director, Western Asia and Stabilization Unit, participates in High-Level Development Conference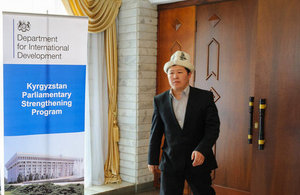 Mrs. Pauline Hayes, DFID's new Deputy Director, Western Asia and Stabilization Division, visited Bishkek on 10 -11 July 11, 2013 to participate in the High-Level Development Conference with the Government of the Kyrgyz Republic and development partners.
The aim of the Conference was to take stock of the progress made in the three years since 2010; for donors and government to confirm their endorsement of the National Sustainable Development Strategy (NSDS) 2013 – 2017; and to agree action to implement it. The conference was organized by the Government of the Kyrgyz Republic with support from the World Bank Group and other development partners.
It brought together 150 participants, representing the Kyrgyz presidency, government, parliament and judiciary, civil society and the private sector, international development partners and financial institutions.
All participants endorsed the NSDS, but noted that it was ambitious. The Government will need to prioritise ruthlessly to match priorities with available resources. Building upon the impetus generated at the Conference, Government and partners will now work together to define and implement these priorities.
Pauline comes to Central Asia after 3 years as head of DFID's Afghanistan office. She was responsible at DFID for Central Asia from 2006 – 2010 and was very pleased to be back in Kyrgyzstan.
Published 12 July 2013