UK reinforces relations with Cameroon and Chad
Neil Wigan, Director for Africa visited Cameroon and Chad to foster ties between the UK and the two countries.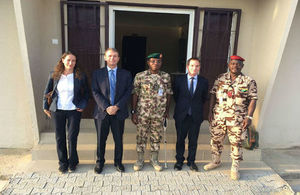 The FCO's Director for Africa, Neil Wigan met with Cameroon's Prime Minister, Philemon Yang, the Minister for Commonwealth, Minister Delegate for Foreign Affairs and the Secretary General at the Presidency. Discussions with all these interlocutors focused on prosperity, security and assistance to refugees and displaced persons in Cameroon by the UK. Neil Wigan also used his visit to commend the contribution of the Business Coalition Against Corruption to the government of Cameroon's efforts in the fight against corruption.
Mr. Wigan later visited the Chadian capital, N'Djamena, where he met and held UK -Chad bilateral talks with the Secretary General at the Chadian Presidency, the Secretary General and the Secretary of State for Foreign Affairs, members of civil society, the media and the diplomatic community. The visit underlined the determination of the United Kingdom to remain a steadfast supporter of the Chadian people and highlighted opportunities by which the United Kingdom may be able to increase current levels of support including to help with improving security and with meeting the urgent demands for humanitarian and development support.
Published 14 October 2016