World news story
UK reaffirms support for Lebanon's stability
British Ambassador Designate to Lebanon Hugo Shorter met with Prime Minister Tammam Salam at the Grand Serail.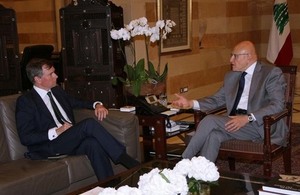 Following his meeting Ambassador Shorter said:
Prime Minister Salam and I met today to take stock following Prime Minister Cameron's visit to Lebanon and the meeting last week of the International Support Group in New York.

I welcomed the ongoing political dialogue and the efforts to address the challenges facing the country. These include the election of a President, delivery of public services and the resolution of the current political impasse to restore a functioning government.

Given these turbulent times in the region, political leaders need to cooperate and compromise, and act in Lebanon's national interest to preserve and strengthen state institutions.

I reiterated to the PM the UK's continued and unwavering support for Lebanon's stability and security. We announced a further $37 million of support in New York, is in addition to the $53 million announced by Prime Minister Cameron, to fund Lebanese schools and continue supporting the Lebanese Army.
Published 7 October 2015