World news story
UK provides further assistance to Lebanese ِِArmy
Fletcher meets Defence Minister Mokbel, pays condolences and offers UK practical support to the Lebanese Army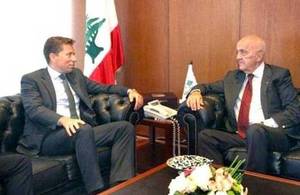 British Ambassador Tom Fletcher met with Defence Minister Samir Mokbel in Yarze.
After the meeting Ambassador Fletcher said:
I am very grateful to his Excellency the Defence Minister for giving me time to come to see him this morning to discuss the latest situation in Lebanon. I shared with him the condolences of the British people for the tragic loss of life of Lebanese soldiers in defence of their country in recent weeks. These were men of great courage who were on the frontline of protecting Lebanon's citizens and protecting in fact all of us who believe in freedom and tolerance and diversity. They have our full solidarity and our full support. My thoughts are also with the families of those soldiers and policemen who have been taken captive and I promised the Defence Minister that we will do all we can to support Lebanon's effort to bring Lebanon's boys back home.
Of course this is an ongoing situation and the challenges continue. It is more important than ever that all of us who are allies of Lebanon look again at what we can do to support Lebanon's effort towards its own stability and sovereignty. In that light I was pleased to share with the Defence Minister that we will provide further support to the army. We will help army to rebuild position and establish sovereignty through protected observation on the border; we will expand our training and equipment of the army.
At this time of great challenges and threats all of us who are on Lebanon's side have a responsibility, have an obligation, to do all we can to back Lebanon.
Published 14 August 2014