World news story
UK provides extra funding to Kyrgyz Institute for Public Policy
The UK Conflict Pool approved extra funding to expand the Institute for Public Policy project on conflict prevention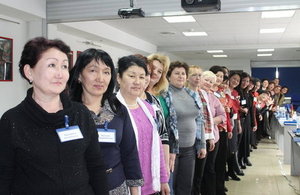 The UK Conflict Pool has approved extra funding to expand the Institute for Public Policy (IPP) project entitled "Capacity building for conflict prevention".
The project aims to reduce the risk of conflict in Kyrgyzstan by introducing peace education to young people, and providing expert analyses of the most pressing and conflict-sensitive issues to stakeholders. With the additional £16,500, IPP will expand the capacity building programme on peaceful conflict transformation, peace education and the running of school reconciliation services for at least 36 secondary school teachers.
The programme will be delivered by experienced Kyrgyz and international conflict management experts. The teachers are expected to introduce peace education programmes and reconciliation services in their schools. The best performing teachers will be equipped with information materials and stationery to deliver peace education programme more effectively.
The expanded project activities will allow at least 1 200 children to obtain from the teachers knowledge and skills relevant to peaceful methods of conflict transformation and tolerant behavior. At least 10 school reconciliation services within the pilot schools will be established.
Published 20 February 2014