World news story
UK Prime Minister's Trade Envoy to Bangladesh visits Dhaka
The UK is the second largest foreign investor in Bangladesh.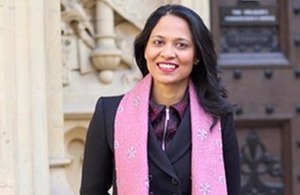 Rushanara Ali MP, the UK Prime Minister's Trade Envoy to Bangladesh, has arrived in Dhaka to reaffirm the importance the UK attaches to its trade and investment with Bangladesh.
During her visit the Trade Envoy will meet members of the British business community in Bangladesh, industry and business leaders, political leaders and senior members of the Government.
Marking Ms Ali's visit, the British High Commissioner to Bangladesh, Ms Alison Blake said:
"Ms Ali's visit is a sign of our commitment to build our trade and investment relationship with Bangladesh. Her visit is a timely opportunity to discuss our commitments to build prosperity for both our countries, supporting Bangladesh's economic development, and to identify ways to further strengthen our commercial and trade ties."
Trade Envoy for Bangladesh, Rushanara Ali MP said:
"This is my first visit to Bangladesh as a Trade Envoy. Besides our historic ties, Bangladesh has exciting opportunities for British companies as its economy is growing impressively. As a great trading nation we in the UK are keen to deepen our trade relationship with Bangladesh.
During this visit I will discuss mutual prosperity goals with political and business partners. International trade and investment can be a force for good, creating prosperity and opportunity as well as supporting innovation and creativity. I am also keen to ensure Britain continues to have a strong partnership with Bangladesh in promoting further development and tackling the threat of Climate Change."
Note to editors
The cross-party Trade Envoy programme was established in 2012 to build bilateral trade relationships and help drive economic growth in countries identified as key markets for the UK. They are unpaid positions. There are currently 24 Members of Parliament and Peers from across the political spectrum working as Trade Envoys covering over 50 different markets. All Trade Envoys are personally selected by the Prime Minister for their experience, skills and knowledge of particular sectors and countries. This is part of a new whole-of-government approach to boosting trade with priority markets and sectors.

Rushanara Ali is the Labour Party MP for the constituency of Bethnal Green and Bow. In her Parliamentary career, she has been Shadow Minister for Education and International Development and a member of the Parliamentary Treasury Select Committee. Ms Ali currently serves as a member of the Parliamentary Select Committee for Energy and Climate Change.

The UK has strong business interests in Bangladesh and remains the largest foreign investor. Over 240 British companies are operating in sectors including retail, banking, energy, infrastructure, consultancy and education with main centres of operation in Dhaka, Chittagong and Sylhet. The UK is also the third single largest destination for exports from Bangladesh.
Published 18 December 2016