World news story
UK to support Lebanon's education sector
UK reinforces commitment to Lebanon's security, stability, vows to continue supporting Lebanon and the Lebanese people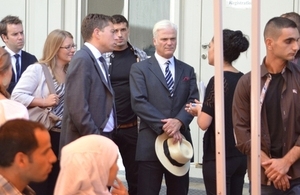 Minister of State for International Development (DFID) Desmond Swayne MP has completed an official two-day visit to Lebanon, his first since taking up his position in July 2014.
Before his departure Minister Swayne said:
I am glad to be in Lebanon to see for myself the front-line of Lebanese generosity towards refugees. The UK will continue its support to Lebanon and has set out longer term development interventions that will help Lebanese host communities and refugees. I'm glad to have been able to reiterate to the Lebanese government and Lebanese people the UK's commitment to supporting Lebanon's security, stability and humanitarian efforts in dealing with the Syria crisis. I call on international donors to deliver concrete commitments at the UN General Assembly meeting scheduled to take place this month.
On Wednesday, the Minister met with Education Minister Elias Bou Saab where he announced that the UK will be chairing a major meeting on education during this month's UN General Assembly (UNGA) under the 'No Lost Generation Initiative'and will be making a major new announcement of support for Lebanon's education sector in response to the ministry's RACE plan.
Mr. Swayne also met with Prime Minister Tammam Salam and Social Affairs Minister Rachid Derbas in which he reiterated the UK's continued support and commitment to Lebanon's security and stability.
He visited a UNHCR registration centre in Beirut accompanied by UNHCR's representative in Lebanon, Ninette Kelly where he saw first-hand the impact of UK funded operations in delivering humanitarian aid to refugees in Lebanon. He also met with UNDP Country Director, Luca Renda for a follow-up to the UK-funded municipalities Host Communities Programme which UNDP is implementing.
The UK already provided over $250m since the start of the Syrian crisis and we will continue to help Lebanon and the Lebanese people. The UK continues to be at the forefront of education, giving tens of thousands of students an opportunity and a sense of hope for the future. The UK has spent £17.4 million so far in support of Lebanon's education sector.
Published 12 September 2014