World news story
UK Partners with the Judiciary of Tanzania to Tackle Serious Crime
Principal Magistrates of Tanzania are this week attending the "Serious Crimes Judicial Skills Course" at the White Sands Hotel, Mbezi Beach, Dar es Salaam.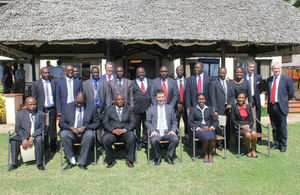 The Deputy British High Commissioner, Matt Sutherland, and the Honorary Presiding Judge of the High Court, Shaban Lila, attended the course to congratulate the participants.
The course is funded by the United Kingdom government as part of the joint commitment by Tanzania and the United Kingdom to work closely together to tackle serious crime.
The course is designed to support the Tanzania judiciary tackle the growing national and international threats of serious crime including drug trafficking, illegal wildlife trade, terrorism and the recovery of criminal assets.
There are 14 Principal Magistrates attending from Courts across Tanzania including: Kisutu, Kigoma, Arusha, Moshi, Mwanza, Sumbawanga, Temeke, Dodoma, Kinondoni and Mbeya
The programme is being hosted by the Criminal Justice Advisor from the British High Commission. The trainers include experienced judges from the United Kingdom;, Nick Barker who has trained judges in Pakistan, Kenya, Nigeria and Somaliland and Peter Moulson QC.
This is part of a package of support between Tanzania and the United Kingdom on serious international crime. This includes work with police, prosecutors and law makers.
This is the second training provided to the judiciary and follows training to High Court judges provide in November 2015.
The Indian Ocean region is increasingly being used by drug traffickers to transport large volumes of illegal drugs to East Africa from Afghanistan and Pakistan. Since 2012 international naval forces in the region have stopped more than 44 vessels and seized more than 8 tonnes of heroin and 30 tonnes of hashish.
The joint work between the UK and Tanzania has led to the detention and prosecution of international drug traffickers in both Tanzania and the United Kingdom.
Matt Sutherland explained why the UK was supporting this work:
"Tanzania and the United Kingdom have a common interest in tackling serious crime together. We are increasingly seeing that international criminals use international networks to traffick drugs, export wildlife trophies or hide the profits of crime. It is only by working together that we can make sure there are no safe havens for criminals.
I am delighted that the UK is able to work so closely with Tanzania in this work. It has already been very successful.
I am pleased that Tanzanian and UK judiciary are able to work together in this course. The common history of our laws and legal institutions means that we are able to learn from each other. This course will provide valuable, practical training to those in the front line fighting serious crime in Tanzania.
I am delighted that the United Kingdom government is able to partner with the Judiciary of Tanzania."
Published 11 March 2016