World news story
UK partners with PCCB on Asset Recovery
PCCB Investigators from across Tanzania are this week attending an Asset Recovery Development seminar at the New Africa Hotel, Dar es Salaam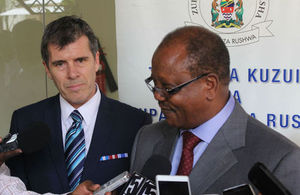 The investigators from PCCB's 27 regional offices are receiving enhanced skills training in Anti-Money Laundering, recovering the proceeds of crime by making better use of the current legislation in Tanzania. The development training is funded by DFID as part of their Strengthening Tanzania's Anti-Corruption Action (STACA) programme and is being hosted by a UK Law Enforcement Officer from the UK's National Crime Agency.
The Proceeds of Crime refers to any money or property gained from criminal activity which for the PCCB Investigators will be focussed on corruption offences. Confiscating the proceeds of crime is a proven deterrent that also prevents crime by attacking its profitability and removing funding for further criminal activity. In Tanzania the Money Laundering Act was enacted in 2006.
The British Prime Minister David Cameron reiterated the seriousness with which the UK is tackling corruption. On a recent visit to Singapore, he highlighted UK efforts against what he termed the 'great enemy of progress' – corruption:
"Corruption is one of the greatest enemies of progress in our time. But when it comes to tackling corruption, the international community has looked the other way for too long. We want Britain to be the most open country in the world for investment, but we must ensure the UK does not become a safe haven for corrupt money from around the world".
Speaking ahead of the conference, head of DFID Tanzania, Vel Gnanendran, explained why DFID is supporting this conference:
"This conference will provide valuable, practical training to those in the front line fighting corruption in Tanzania. The content of the training is tailored to Tanzanian legislation and I am delighted that DFID is able to partner with the PCCB in this important venture"
Published 29 July 2015