World news story
UK participates in IMME 2016
Sixteen UK companies took part in the International Mining and Machinery Exhibition (IMME), held in Kolkata from 16 to 19 November.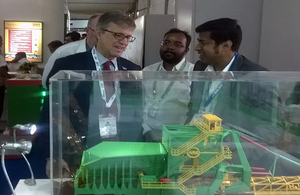 The flagship event in the mining sector in India, IMME attracts a range of mining and mining equipment companies from India and abroad. The 4 day event provided an excellent opportunity for the participating UK companies to showcase their products and services excellence to a large number of visitors.
The Indian coal sector is witnessing a number of changes: new entrants from the private sector, growing preference for world class technologies, mines of global scale and sizes, and some new policy initiatives from the government. All these are leading to a very large and exciting opportunity mix for the entire mining ecosystem.
The UK is well placed to offer a range of mining solutions to India's large and mining sector in a number of areas: opencast and underground coal mining equipment, mine safety products, training, consulting inputs for mine planning and development, prospecting and exploration, geological studies, coal processing, washing and other cleaner coal technologies.
Details of UK companies who took part in IMME are given below. Many of these companies have been actively doing business in India for a long time. MMD Heavy Machinery is currently setting up a manufacturing unit in Sri City, Andhra Pradesh.
Follow us on Twitter, Facebook, Flickr, Storify, Eventbrite, Blogs, Foursquare, Youtube, Instagram, Vine, Snapchat @UKinIndia, Periscope @UKinIndia
Published 25 November 2016