World news story
UK Parliamentary delegation visits school in the Bekaa
The International Development Committee of the UK Parliament visited Lebanon to witness the depth of the UK's support to education.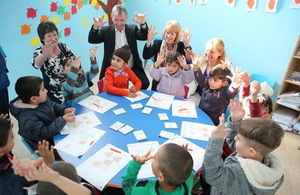 Education is a flagship programme for the UK government in Lebanon. DFID has committed to provide £160 million over the next four years to support the Ministry of Education's RACE II strategy which seeks to get all children in Lebanon into education. Already, 200,000 children received a free education and free textbooks last year thanks to the ministry's programme and support from the international community.
Through its new multi-year support, DFID is supporting the ministry to go even further. Through new programmes, DFID will support not just improvement in children's access to education but also the quality of teaching and learning, whilst building up effective systems, infrastructure and curricula to support this. The UK is committed to not leaving any child behind, with a focus on reaching the most vulnerable Lebanese and refugees through life-changing support to public schools and non-formal education, including on life skills and child protection for out of school children.
As part of their trip, the seven MPs visited first and second shift schools and a non-formal education centre providing early childhood learning to observe the impact of UK support and interact with children, teachers and parents. The committee also had the chance to hear from officials at the Ministry of Education about their needs and how the UK is helping. Finally, British Ambassador Hugo Shorter hosted a reception where the British MPs met partners, Lebanese Government officials and stakeholders from the education sector.
Published 2 December 2016