World news story
UK Open Data Mission visits Taiwan
UK Open Data Mission visits Taiwan enhancing research collaboration with Taiwan partners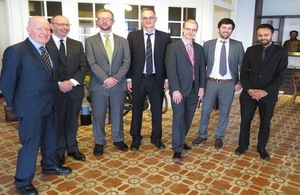 In order to further strengthen exchanges and practical collaborations between the UK and Taiwan, the UK's Open Data Institute (ODI) is leading a six-member mission to Taiwan on 18 March to 20 March. The mission will build upon the letter of intent to work together on open data collaboration signed in December 2013 between the ODI and Taiwan's Open Data Alliance.
Organised by the British Trade & Cultural Office (BTCO), the UK Open Data mission consists of start-up open data companies and researchers who meet with key stakeholders in Taiwan and host the "Taiwan-UK Open Data Summit" at the GIS Taipei Tech Convention Centre in Taipei tomorrow (19 March) in collaboration with Industrial Development Bureau of the Ministry of Economic Affairs and the Taipei Computer Association. The latest Open Data developments, covering policy, research and commercial applications will be addressed at the Summit.
The UK is the first country to promote Open Data foreseeing that Open Data can lower barriers to data access, increase government transparency and deliver significant economic, social and environmental benefits. We are at the start of a global movement towards transparency – and the UK is leading the world in making data more freely available. The UK is at the forefront of the global data revolution: the UK experience has informed open data initiatives in the USA, EU and G8. As a result he UK ranked is #1 in the Open Knowledge Foundation's 2014 Open Data Index.
Taiwan has shown massive interest from all levels of government, research institutes, businesses and grass-roots technical communities in recent years in this subject. With the Open Data currently applied mainly around Taiwan's transportation networks there is massive potential for working collaboratively between the UK and Taiwan in other areas such as disaster management, environmental and government procurement open data which this Mission will explore during their stay in Taiwan.
Published 18 March 2015