World news story
UK official visits Taiwan to promote trade and investment links
Mr Nick Baird, Chief Executive of UK Trade and Investment, visited Taiwan to further bilateral trade and investment links.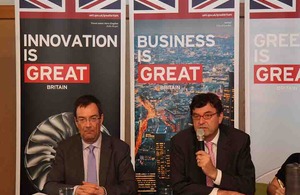 Mr Nick Baird, Chief Executive of UK Trade and Investment (UKTI), visited Taiwan on 3-5 June to further bilateral trade and investment links between the UK and Taiwan.
During the visit, Mr Baird supported UK companies keen to participate in rail and renewable energy projects in Taiwan, led the UK side at the UK-Taiwan bilateral trade talks, and promoted investment opportunities to Taiwanese companies. He also made a keynote speech on UK/Taiwan commercial relations and opportunities for growth at the Taiwan-Britain Business Council (TBBC) annual meeting on 4 June.
The UK is an important bilateral trading partner and major investor in Taiwan. The UK is Taiwan's 3rd largest trading partner in Europe. The bilateral trade in goods between the UK and Taiwan in 2012 reached £5.13 billion, the highest figure ever. UK goods exports to Taiwan totalled £1.15 billion last year, the second highest figure ever. UK service exports to Taiwan have grown at an average of 14% per year over the last decade and reached £1bn in 2011, the last year for which we have records. At the TBBC annual meeting, Mr Baird witnessed the signing of two Memorandums of Understanding (MoU). One is between Funkwerk Information Technologies York Ltd and China Engineering Consultants, Inc. to collaborate on enhancing railway efficiency and the other is between the UK Railway Industry Association and Chung-Hwa Railway Industry Development Association on information exchange.
On renewable energy business, the collaboration between the UK and Taiwan has been growing ever closer. A Taiwan delegation consisting of 15 major companies and academics will be visiting the UK next week. They will meet with UK government departments such as the Department of Energy and Climate Change (DECC) and Department for Business, Innovation and Skills (BIS) to exchange views on how the UK government works with UK renewable industries to build the largest wind farm development in the world. The British Trade & Cultural Office and Ministry of Economic Affairs will also co-host the 8th roundtable discussion on "UK-Taiwan Offshore Wind and Marine Energy" in Manchester, UK on 12 June.
Emphasising the UK is the leading European destination for foreign direct investment, Mr Baird announced that Grimm Press, the leading children's book publishers in Taiwan and an investor since 2012, has closed licensing deals with Penguin books UK, to enrich the content portfolio on Grimm's kid tablet, Booki, debuted and well received in this year's London Book Fair. The companies leverage their strength between partners and choose the UK as a platform for joint production and promotion of children's digital content market.
He said: "The UK is the world's largest exporter and re-exporter of books by value, and publishing is the UK's biggest creative sector. The partnership between Grimm Press, Penguin and leading artists such as Babette Cole is a great example of what can be achieved between Taiwanese and British companies. I see huge potential for the UK and Taiwan to establish partnerships for the bilateral business growth. We look forward to seeing more cross-border and cross-sector collaborations, creating synergies and prosperity in both economies."
During his visit, Mr Baird also shared the London Olympics legacy when he met with Taipei City Mayor Hau Lung-bin in supporting Taiwan for 2017 Universiade and the bid for the 2016 World Design Capital to transform Taipei into a creative city. The meeting was the follow-up on the Host2Host Memorandum of Understanding signed by Mayor Hau and Mr Baird in London last year.
Mr Baird's visit to Taiwan is part of a regional trip, which also included China.
Published 4 June 2013
Last updated 5 June 2013
+ show all updates
change the worldwide organisations to British Trade & Cultrual Office Taiwan
First published.