World news story
UK National Statement to the 8th Conference of Parties to the United Nations Convention against Transnational Organised Crime
Delivered by H.E. Ambassador Leigh Turner, 17 October 2016, UN HQ, Vienna.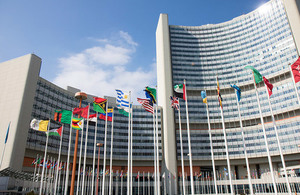 I would like to begin by welcoming you, Excellency, as the President of this 8th Session of the Conference of the Parties to UNTOC.
First, I want to express condolences for death of His Majesty King Bhumibol Adulyadej of Thailand who died Thursday 13 October 2016. We think today of the people of Thailand.
Madam President,
The United Kingdom is fully supportive of the statement made at this session today by the European Union, and I now have some comments to make on a national basis.
Organised crime is a global issue that drives instability and poses a threat to national security. The threat has an extremely broad geographic spread; criminals and criminal activity transcend both borders and state interests. It is therefore essential that we collaborate and cooperate as an international community in order to most effectively counter these transnational threats.
The United Kingdom welcomes the progress made by Member States to tackle organised crime. Together we have worked to identify and expose the vulnerabilities that drive these issues; and have undertaken to promote the common values that collectively we share in dealing with them.
However, we believe that there is more we can do and more we can achieve to strengthen and support the criminal justice response aimed at preventing and disrupting these mutual threats. We need to focus not only on the law enforcement and criminal justice response; but also on addressing the socio-economic and governance related vulnerabilities that drive, enable, and perpetuate crime.
The United Kingdom recognises the United Nations Convention against Transnational Organised Crime (UNTOC) as a key international instrument. The UNTOC provides a broad framework, and encourages effective cooperation among Member States, to address both existing and emerging forms of transnational organised crime.
As parties to the UNTOC we recognise that the implementation of the convention by Member States is key to the effectiveness of our international response, as is reviewing that implementation. We look forward to constructive discussions on what format such a framework should take.
Madam President,
The United Kingdom is taking a leading role in disrupting and prosecuting the international networks of organised criminals taking advantage of vulnerable migrants in such a lucrative and abhorrent manner. People smuggling can only be successfully countered through a comprehensive and cross-border approach; and as such we are stepping up our joint efforts to better prevent and fight migrant smuggling together with countries of origin and transit. We appreciate the collaborative working to date from international partners, and welcome further efforts to share relevant information on, and pursue joint investigations into the criminals, their networks and their illegal finances.
Similarly, those organised crime groups who are behind modern slavery have global networks to help them make money out of some of the world's most vulnerable people. As the Prime Minister said in her recent address to the UN General Assembly, we need to be smarter and even more coordinated than the criminal gangs in our efforts to stop them.
As part of this, the Prime Minister announced a modern slavery taskforce sitting at the heart of the Government to drive further progress in tackling slavery and people trafficking. The UK has also pledged up to £33.5m funding to prevent slavery in countries from where we know victims are regularly trafficked to the UK. This includes £5million to work in Nigeria to prevent exploitation and step up the fight against those who seek to profit from this crime.
The United Kingdom appreciates the ongoing efforts of the UNODC work to address these threats faced by the international community, and in helping to ensure a managed and controlled international migration response.
Madam President,
The United Kingdom believes that organised crime is enabled by corruption, and facilitated by illicit finances and money laundering. Organised criminals exploit and exacerbate the conditions that allow crime to thrive. They undermine state institutions and can weaken the ability of the state to ensure the rule of law.
This results in a vicious cycle where organised crime impacts negatively on the rule of law to the extent that it creates instability, weakens governance, and allows for corruption to ensue. The UK is committed to defeating corruption; and welcomes the United Nations Convention against Corruption (UNCAC) as a basis for international cooperation.
The United Kingdom's ambition to coordinate international efforts on tackling illegal firearms has accelerated since the attacks in Paris almost a year ago. We continue to work towards strengthening the EU legislative response to firearms, building the intelligence picture on the movement of illegal firearms, as well as building the capacity to tackle this threat in source and transit countries.
The United Kingdom is fully supportive of the measures on cybercrime technical assistance set out in the Budapest Convention; which promotes an open internet respecting individual human rights. Cooperation between member states is essential in broadening our capacity building further.
The United Kingdom firmly upholds that everyone is entitled to all the rights and freedoms contained in the UN international human rights instruments, without distinction of any kind.
I would like to close by thanking the President for this opportunity to address the Conference.
Published 14 December 2016