World news story
UK Minister Alok Sharma hails long standing friendship with Bangladesh
UK Minister for Asia and the Pacific Alok Sharma paid tribute to the strength of the trade, security and cultural links between the UK and Bangladesh.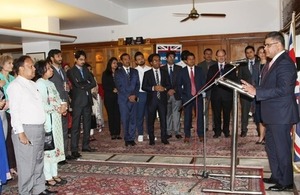 In this ministerial visit, Mr Sharma met the Prime Minister Sheikh Hasina, and held discussions with the Foreign Minister Abul Hassan Mahmood Ali MP. He had meetings with other Bangladeshi government ministers and political party leaders, including Begum Rowshan Ershad, MP and Begum Khalida Zia. He underlined the UK's commitment to Bangladesh's development, to boosting trade with Bangladesh and increasing co-operation, including on security and counter terrorism. He also discussed the Commonwealth and UK-Bangladesh Parliamentary links with Dr Shirin Sharmin Chaudhury, MP, Speaker and Chairperson Commonwealth Parliamentary Association
Mr Sharma also met representatives from civil society groups and minority and faith leaders, and spent time with Chevening and Commonwealth alumni, hearing about their work and how they and the country have benefited from collaboration between the UK and Bangladesh.
In his meetings with business leaders he discussed the opportunities and challenges they face and how the UK and Bangladesh governments could do more to enhance bilateral trade.
The UK Minister for Asia and the Pacific, Alok Sharma MP, said:
"I am delighted to have visited Bangladesh for the first time and seen firsthand our unique and historic friendship. More than half a million British citizens are of Bangladeshi heritage and make a huge contribution to British life.
"Following my visit, in the year that marks the 45th anniversary of the UK's recognition of an independent Bangladesh, I want to further strengthen our vital partnership, enhancing bilateral trade and working more closely together on international security."
Contact us
British High Commission Dhaka
United Nations Road
Baridhara
P O Box 6079
Dhaka - 1212
Dhaka
Bangladesh
Email: Dhaka.Press@fco.gov.uk

Follow the UK Minister for Asia and the Pacific on Twitter: @AlokSharma_RDG
Follow the British High Commissioner to Bangladesh on Twitter: @AlisonBlakeFCO
Follow the British High commission Bangladesh on Twitter and Facebook
Published 4 March 2017