World news story
UK-Lebanon cooperation on ending Sexual Violence in Conflict
Foreign Secretary and Lebanese Foreign Minister Bassil reaffirm cooperation on ending sexual violence in conflict and supporting stability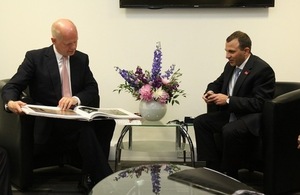 Foreign Secretary William Hague welcomed Lebanese Foreign Minister Gibran Bassil to London on his first official visit to the United Kingdom.
Speaking from the Global Summit to End Sexual Violence in Conflict, both ministers agreed to tackle human rights violations as part of their governments' responses to the Syrian refugee crisis, and reaffirmed their commitment to ending sexual violence in conflict.
The ministers agreed that rape and sexual violence destroy whole communities and ruin the lives of women and men, boys and girls. The ministers agreed that it was time to act to deliver practical change on the ground.
The Foreign Secretary was proud Foreign Minister Bassil chose to make his first official visit to the UK during the ESVI Summit, and welcomed his commitment to its aims. For his part, Minister Gibran Bassil reaffirmed Lebanon's commitment to remain a leader in the Levant championing all struggles that aim at putting an end to sexual violence in days of conflict and in times of peace. This has always been Lebanon's role: carrying a message of tolerance and respecting human dignity.
Hague reiterated the UK's continued support to Lebanon to meet a number of major challenges which include the need to elect a new President, ensuring security, combating terrorism; and helping over one million Syrian refugees in Lebanon. Both Ministers agreed on the importance of maintaining the already close relationship between both Ministries in the interest of the two countries, and committed to building on this still further.
Bassil affirmed that Lebanon is very keen on strengthening relations with the United Kingdom which include the boosting of trade between both countries and maintaining close political cooperation. Lebanon is at the forefront of the fight against terrorism and values the promotion of human rights. On Syria, the only way forward is to find a political solution which will enable the safe and dignified return of all displaced Syrians to their home country.
During Mr Bassil's bilateral visit, he also met the House of Commons All Party Parliamentary Group on Lebanon and Lord Howell of Guildford, a representative of the House of Lords, with whom he discussed the need for dialogue, stability and prosperity in the region. He also met with the Lebanese community and British and Lebanese businessmen and investors.
Published 24 June 2014