World news story
UK launches new visa service in Lebanon
Visa applicants in Lebanon can now opt to make their application at a location of their choice, using a brand new visa service.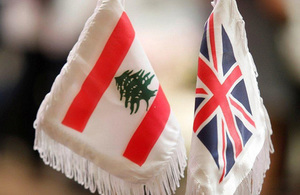 Deputy Head of Mission Benjamin Wastnage, has unveiled a top tier service to offer a new convenient experience for visa applicants in Lebanon.
Offering the ultimate in convenience, the 'On-Demand Mobile Service' gives applicants across Lebanon the option to complete their visa application, including biometric enrolment, from the comfort of their home, office or any location of choice.
The new service offers even more flexibility to UK visa applicants in Lebanon, who can choose from a number of existing added value services to suit their preferences. Applicants at the visa application centre in Beirut can already select a 'Premium Lounge Service' for extra comfort and hospitality, or a Priority Service which ensures their application is placed at the front of the queue for a quicker decision (typically within 5 days). The new 'On-Demand Mobile Service' offers another convenient option to customers who want to complete their visa application at a location of their choice.
The 'On-Demand Mobile Service' service is available to individuals and groups, such as corporate employees or families, who would prefer not to travel to the visa application centre to apply. Instead, a small team will travel to the applicant's chosen location to complete the biometric enrolment process (capturing finger scans and a photograph).
The cost of the service starts at £350 for an individual, with discounted bespoke pricing for groups, depending on size. To find out more or to book this service, information is available in Arabic and English by UK Visas and Immigration's commercial partner, TLScontact.
Representing British Ambassador to Lebanon Hugo Shorter, Wastnage said:
I am delighted that we can offer another convenient option to UK visa applicants in Lebanon. For those who want total flexibility or comfort, this addition to our excellent visa service will give our valued customers in Lebanon even more choice as they start their journey to the UK. Britain is open for tourism, study, and business.
information:
*UK Visas and Immigration is responsible for making millions of decisions every year about who has the right to visit or stay in the UK. In the year ending March 2017, 18,000 visas were issued to Lebanese nationals, an increase of 14% from the previous year. The majority of these were to visitors (people travelling to the UK on a short trip for tourism, business or to visit friends and family).
*TLScontact operates a visa application outsourcing service with a growing network of modern, comfortable and secure application centres worldwide.
*Operating in more than 87 countries, TLScontact application centres are present in over 136 locations countries and over 6 million visa interactions are processed globally. TLScontact operations are certified ISO/IEC 27001: 2013. For more information, please visit [TLScontact] (https://uk.tlscontact.com)
Published 21 July 2017