World news story
UK invests £160 million for education in Lebanon
UK is delivering on its commitment to invest £160 million in quality education in Lebanon, International Secretary of State has announced.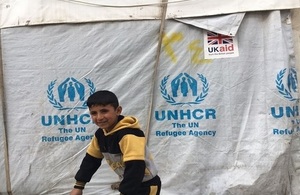 Today UK Secretary of State for International Development Priti Patel announced that the UK is delivering on its commitment to invest £160 million over 4 years in quality education in Lebanon. Compared to last year's enrollment figures, the funding will contribute to getting 147,000 more children into public schools, while maintaining free enrollment for all. The funding will support the London Conference goal of reaching all children with education by 2016/17, provide over three million textbooks, rehabilitate at least 10 schools, and raise standards.
The UK Secretary of State made the announcement during a visit to Lebanon to mark the one-year anniversary of the London Conference, which saw donors agree to support Lebanon's medium and long term development through the Lebanese government's Statement of Intent. On 4 February 2016, the international community pledged over $12 billion to support Syria and its neighbours – more than has ever been pledged for a humanitarian crisis in a single day. The UK's commitment to Lebanon this year alone was £114 million, but we have pledged to continue supporting Lebanon not just in education but in its wider development for at least the next four years.
Secretary of State for International Development Priti Patel is the first British Cabinet Minister to visit Lebanon since the new Lebanese government took office.
On behalf of the British Government, the Secretary of State for International Development congratulated the President and Prime Minister in a sign of the close partnership between the British Government and the Government of Lebanon, she also hosted a dinner for the ministers working on Lebanon's Crisis Response Plan. In all her meetings she underlined the UK's steadfast commitment to Lebanon's stability.
Following her meeting with Prime Minister Hariri, Patel said:
I am very pleased to have visited Lebanon at this time. Yes, this country faces great adversity, but it is also a country of great generosity, great resilience and great symbolism. Speaking to the Prime Minister, the President today.I sensed a new mood in the country, with the end of the political vacuum, reactivation of Cabinet and the prospect of a renewed parliament on the horizon. I think there is a real opportunity for Lebanon to make the most of its partnership with the international community, both for its own people and for the many refugees it is hosting.

The UK has delivered on the promises we made last year, reaching hundreds of thousands of Lebanese and refugees – now it is essential that the international community and host governments alike step up with the funding and reforms needed to complete the ambitious agenda agreed in London.
In the morning, she had witnessed the challenging conditions of Syrian refugees coping with a harsh winter. She learned how the UK is lessening the burden by providing improved shelter for refugees and improved water and sanitation for tens of thousands of Lebanese and refugees.
SoS Patel had also visited a school where the next generation of Lebanese and refugee children were benefiting from international support for renovated school buildings and improved teaching standards.
Secretary of State Patel said:
It's not enough for children just to get into school, we are working to ensure that they are learning well and thriving in their academic career for a brighter future.
Further information:
Priti Patel is the senior Secretary of State responsible for the Department of International Development. The UK is also the only G7 country to meet its UN Millennium Project commitment of spending 0.7% of its GNP to Overseas Development Assistance.

The UK has delivered on its four-year pledge. DFID has now allocated its full investment of £160m over 4 years for education in Lebanon, announced at the Supporting Syria and the Region Conference. This includes:

Priti Patel announced the UK is taking our total support for formal education to £100m over 4 years. This package will ensure that a further 147,700 vulnerable Lebanese and non-Lebanese will be enrolled in formal education, provide over 3 million textbooks to children in Lebanon, rehabilitate at least 10 schools, support at least 75% of teachers to meet the proposed new national professional standards and support the Ministry of Education's reform priorities including on use of data and a national learning assessment framework.

DFID provided to UNICEF £60m for non-formal education and child protection to ensure 'No Lost Generation' as a result of the Syria crisis, announced by the Secretary of State in summer 2016. This programme is designed to support the most vulnerable out of school refugee children (Syrian, Palestinian and Iraqi) and the poorest Lebanese children and will provide non-formal education for up to 100,000 children cumulatively over four years. It will also address the urgent child protection needs of an estimated 287,000 girls, boys and caregivers, providing them with access to services aimed at preventing and responding to violence and exploitation and helping promote positive practices around issues like child marriage and child labour.
Published 6 February 2017