World news story
'UK investing in Lebanon's future, will give children wings'
This was published under the 2010 to 2015 Conservative and Liberal Democrat coalition government
Fletcher and Minister Bou Saab sign Memorandum of Understanding on UK funding for 307,000 textbook packs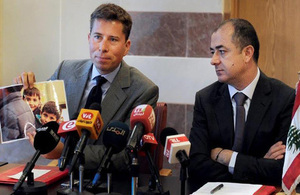 British Ambassador to Lebanon Tom Fletcher and Minister of Education Elias Bou Saab signed a Memorandum of Understanding (MOU) on education which will provide textbooks covering key academic subjects to every child between 6 and 15, who attends state school in Lebanon.
The official ceremony at the Ministry of Education was followed by a press conference, where Minister Bou Saab thanked the UK for its generous contribution, its commitment, and enthusiasm in supporting the key sector of education in Lebanon.
Holding a photo of children he met in a public school in Zahle, Fletcher said:
'This is Ali. I met him when I was in Zahle last year.
Ali likes football, playing with his friends, learning Maths and making visiting Ambassadors look silly.
I asked Abu Ali what three things he wanted most for his family. I thought he would say food, medicine, and a roof that didn't leak. He didn't. Abu Ali said books, books and books.
Because Ali faced a school year without the books he wanted and needed to fulfil his ambition to be a spaceman. Or a teacher if that doesn't work.
I have a seven year old son at school. I know how expensive it is to buy the books he needs. But I can also see, every day, the way that those books are giving him the wings he needs to fly.
We want to invest in Lebanon's future, and so we are investing in Ali's. Thanks to British funding, Ali will have the full set of books in his schoolbag this year. He too will have the wings to fly. Who knows where to. Maybe he'll cure cancer? Maybe he'll put a man on Mars? Maybe he'll be the next Khalil Gibran? I don't know. But he will be able to say that he had the same chances as everyone else, that he had the wings to fly.
As will every pupil in Lebanon. We'll pay for over 300,000 packs of textbooks, so that no child in Lebanon misses out on their education. This is part of our commitment of over 200m USD to Lebanon this year.
I always ask you to judge us on what we do, not what we say. When we promise help, we deliver. My hope is that when you look back on this toughest of times, with the Lebanese battling again against the odds, you'll say that Britain was on your side.
I want to pay credit to our team who put this project together, and to all those at the Ministry who worked so hard to deliver it. Whatever is happening in parliament this week, you know that you have delivered for the Lebanese people.
We know the challenges faced by Lebanese people up and down the country. We're on their side. We're on Ali's side. We believe in Ali. We believe in Lebanon 2020. '
Notes to editors
• The UK provided £3.4 million to enable the Lebanese government to purchase 307,000 textbook packs.
• The scheme ensures that every child aged between 6 and 15 who attends state school in Lebanon has a set of textbooks covering key academic subjects.
• As well as Lebanese and Palestinian children, Lebanese schools are teaching 80,000 refugee children who have fled the fighting in Syria. Every fifth child in school is a refugee. The Lebanese public school system is under growing pressure to find spaces for Syrian refugee children. Some schools are running a two-shift system (where a second school day starts after normal hours), to educate twice as many children.
• UK humanitarian support for Lebanon is currently £124 million. The UK has committed a total of £600 million to help those affected by the conflict in Syria. This is the UK's largest ever response to a humanitarian crisis. The UK is providing support including food, medical care, shelter and relief items for over a million people including those affected by the fighting in Syria and refugees in Lebanon, Jordan, Turkey and Iraq.
• In Lebanon, the UK is combining short term humanitarian work with a more comprehensive approach, combining emergency aid with longer term development interventions that will help Lebanese host communities as well as their guests from Syria.