UK-India working together to address antimicrobial resistance
The UK-India antimicrobial resistance collaboration is led by the UK Research Councils and India's Department of Biotechnology.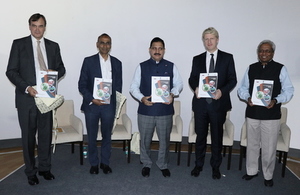 The UK-India strategic group on antimicrobial resistance (AMR) research held their second meeting in New Delhi today to discuss mutual research priorities to tackle AMR, an increasingly serious global threat. They also assessed progress made by the UK-India partnership in AMR, since its launch last November by the UK Minister of State for Universities, Science, Research and Innovation Jo Johnson and Indian Minister for Science & Technology, Minister of Environment, Forest and Climate Change and Minister of Earth Sciences, Dr Harsh Vardhan.
The UK-India AMR collaboration is led by the UK Research Councils and India's Department of Biotechnology (DBT). Both Research Councils UK (RCUK) and DBT are nodal agencies coordinating this initiative with other research funding partners in India like the Department of Science and Technology, Indian Council of Social Science Research, Indian Council of Medical Research, Indian Council of Agricultural Research and the Ministry of Environment, Forests and Climate Change.
The strategic group commended the progress, which has since its first meeting in November 2016, successfully commissioned a mapping report on AMR research in India, which was released by the UK Minister of State for Universities, Science, Research and Innovation Jo Johnson and Indian Minister of State for Science & Technology and Earth Sciences Y S Chowdary at an event in New Delhi last week. Also present at this event were Sir Venkatraman Ramakrishnan, Nobel laureate and President of the Royal Society, Professor K VijayRaghavan, Secretary DBT and British High Commissioner to India, Sir Dominic Asquith.
The report is available on the RCUK India website.
Both ministers welcomed the joint report and the RCUK – DBT partnership addressing AMR. The report identifies gaps in our understanding, especially in countries with high disease burdens, and highlights that we can use multi-disciplinary research to fill key areas of potential action including the environment, industrial waste, farming practise, and how people use and understand valuable antibiotic drugs.
The strategic group also welcomed AMR research experts from the UK and India who will be participating in a UK-India sandpit-style workshop this week to develop outline proposals for AMR research. This workshop is organised by RCUK and DBT from 7 to 10 November in Delhi NCR, and will serve as a platform to build interdisciplinary research teams and joint outline proposals for research into various aspects of AMR.
Up to £13 million joint funding, under the Newton Bhabha Fund, will be utilised on projects funded as a result of this workshop.
Professor K. VijayRaghavan, Secretary, DBT said:
The challenge AMR poses is enormous from India's perspective because it revolves not only around the use of antibiotics, but also around enforcement, industrial waste and use of antibiotics in the livestock industry, all of which, in turn, affects the food chain and public water supply, thereby causing major health risks. Our research efforts are addressing the detection, diagnosis and prevalence of AMR. Our international partnerships are crucial to help scale up these efforts.
Professor Stuart Taberner, Director of International and Interdisciplinary Research, RCUK, said:
Global challenges such as AMR can be addressed by strong, collaborative research partnerships, such as the one the UK-India are demonstrating through various initiatives in AMR. While the joint mapping report identifies gaps in our understanding, I am hopeful that some of proposals that will be developed at the interactive workshop will help address these gaps.
Further information
RCUK India launched in 2008, brings together the best researchers in the UK and India through high-quality, high-impact research partnerships. RCUK India, based at the British High Commission in New Delhi, has facilitated co-funded initiatives between the UK, India and third parties exceeding £230 million. The research collaborations are often closely linked with UK and Indian industry partners, with more than 100 partners involved in the research. RCUK India is actively involved in co-funded research activities with seven major Indian research funders on a wide array of research themes addressing global challenges.
RCUK are represented in India by RCUK India, based at the British High Commission. RCUK is the strategic partnership of the UK's seven Research Councils who annually invest around £3 billion in research in research covering the full spectrum of academic disciplines from the medical and biological sciences to astronomy, physics, chemistry and engineering, social sciences, economics, environmental sciences and the arts and humanities.
We support excellent research, as judged by peer review that has an impact on the growth, prosperity and wellbeing of the UK. To maintain the UK's global research position we offer a diverse range of funding opportunities, foster international collaborations and provide access to the best facilities and infrastructure around the world. We also support the training and career development of researchers and work with them to inspire young people and engage the wider public with research. To maximise the impact of research on economic growth and societal wellbeing we work in partnership with other research funders including Innovate UK, the UK Higher Education Funding Councils, business, government, and charitable organisations.
The 7 UK Research Councils are:
Arts & Humanities Research Council (AHRC)
Biotechnology & Biological Sciences Research Council (BBSRC)
Economic & Social Research Council (ESRC)
Engineering & Physical Sciences Research Council (EPSRC)
Medical Research Council (MRC)
Natural Environment Research Council (NERC)
Science & Technology Facilities Council (STFC)
Department of Biotechnology, Ministry of Science and Technology, is India's nodal organisation for promoting bioscience research and development in the country. It is mandated to promote large scale use of biotechnology, support R&D and manufacturing in biology, support autonomous institutions, promote University and industry interaction, identify and set up Centres of Excellence for R&D, integrated programme for human resource development, serve as nodal point for specific international collaborations, establishment of Infrastructure Facilities to support R&D and production, evolve Bio Safety Guidelines, manufacture and application of cell based vaccines, serve as nodal point for the collection and dissemination of information relating to biotechnology.
Newton Fund in India is known as the Newton-Bhabha Fund. The Newton Fund builds research and innovation partnerships with 18 partner countries to support economic development and social welfare, and to develop research and innovation capacity for long-term sustainable growth. It has a total UK Government investment across all countries of £735 million up until 2021, with matched resources from the partner countries. The Newton Fund is managed by the UK Department for Business, Energy and Industrial Strategy (BEIS), and delivered through 15 UK delivery partners, which include the UK Research Councils, the UK Academies, the British Council, Innovate UK and the Met Office.
Media
For media queries, please contact:
Geeny George Shaju
Communications Manager
Research Councils UK India
British High Commission
Ph: +011 24192637

Mail to: Geeny George
Follow us on Twitter, Facebook, Flickr, Storify, Eventbrite, Blogs, Youtube, Instagram, Snapchat @UKinIndia, Periscope @UKinIndia
Published 7 November 2017