UK-India forge new partnership in healthcare sector
Lord Kakkar will be accompanied by a dozen British organisations representing the UK's healthcare industry and Healthcare UK.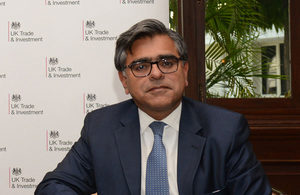 Rt. Hon Professor The Lord Kakkar PC, UK Government Trade Ambassador, is visiting New Delhi on 9 February 2015 to help strengthen the UK-India partnership in the healthcare sector.
Lord Kakkar will call on senior representatives from the Ministry of Health and Family Welfare and offer to collaborate with India's healthcare system. He will also preside over a seminar on 'how to grow the collaborations in healthcare between India & UK'.
Lord Kakkar said:
I am very pleased to be able to travel to India on this occasion to meet the leaders of healthcare in India, in the government and in the private sector. We have established some warm and friendly relationships. I now want to see how we can accelerate our collaboration to our mutual benefit.
The delegation will meet state healthcare officials and leading healthcare companies in Delhi, Mumbai and Kolkata with a view to establishing new partnerships and commercial agreements to use British expertise in India's growing healthcare industry.
This comes at a time when the Indian government consults on its Nation Health Policy 2015. The UK is ready to play its part in improving healthcare in India.
Further information:
Professor The Lord Kakkar, BSc MBBS, MA (Oxf), PhD FRCS PC, is Professor of Surgery, University College London, Chairman of University College London Partners Academic Health Science Partnership and Director of the Thrombosis Research Institute, London, England.

He completed his medical degree at King's College Hospital Medical School and received his PhD from Imperial College London.
His research interests are in the prevention and treatment of venous and arterial thrombosis.
Lord Kakkar was created a Life Peer in 2010 and sits on the cross benches of the House of Lords.
He is Chairman of the House of Lords Appointments Commission and UK Business Ambassador for Healthcare and Life Sciences.
Lord Kakkar was appointed a member of Her Majesty's Most Honourable Privy Council in December 2014.

Healthcare UK is a joint department of UK Trade and Investment, the Department of Health and NHS England and helps British businesses, universities and the NHS build sustainable commercial partnerships in overseas markets.
Stuart Adam, Head,
Press and Communications
British High Commission, Chanakyapuri
New Delhi 110021
Tel: 44192100; Fax: 24192411

Mail to: Sakthy Edamaruku
Follow us on Twitter, Facebook, Flickr, Storify, Eventbrite, Blogs, Foursquare, Youtube
Published 9 February 2015