UK-India celebrate Tech Partnership at FutureTech Fest
The UK and India have celebrated their Tech Partnership at a world-leading technology and innovation festival in New Delhi.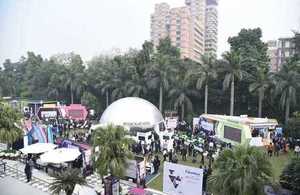 The UK and India co-hosted an exciting technology festival at the Imperial Hotel in New Delhi on 12 December 2018. The India-UK FutureTech Fest (FTF) brought together more than 200 companies and 1000 delegates across two days, featuring world-leading Indian and UK Tech companies, along with scientists, policy-makers and entrepreneurs. The thought-leadership summit looked at the future of technology and the UK and India's place as global leaders. Satellite events took place in Bengaluru, Hyderabad, Chennai, Thiruvananthapuram, Mumbai and Chandigarh.
Leading speakers included:
Elizabeth Denham, UK Information Commissioner
Julian David, CEO of Tech UK
Ron Mobed, CEO of RELX
Matthew Gould, Director General for Digital at the UK's Department of Digital, Culture, Media and Sport
Arvind Gupta, Chief Technology Officer, Government of India
Ramesh Abhishek, Secretary of Department of Industrial Policy & Promotion
Amitabh Kant, CEO of Niti Aayog
Celebrating eight months since the announcement of the unique India UK Technology Partnership, key achievements include:
The announcement of the first two Tech Cluster Partnerships: the Midlands Engine-Maharashtra partnership will explore all areas of Future Mobility, whilst the Northern Powerhouse-Karnataka partnership will focus on Artificial Intelligence and Data.

The launch of a £1 million programme bringing some of the best UK artificial intelligence (AI) health companies to deploy their solutions in Indian government hospitals and Primary Health Centres – focusing on diagnostic AI that can tackle some of the biggest diseases in India. Five companies have been short-listed for the first phase and were announced at the Festival (see further information).

The first meeting of the UK-India Future Manufacturing Steering Group, who are building a report on the design of a 'Future Manufacturing' Centre in India, based on the world-leading Advanced Manufacturing Catapults in the UK.
The CEO Tech Alliance also held their third meeting at the Festival. An expanded FinTech Rocketship Award scheme, designed to boost entrepreneurship and access to UK and Indian markets was launched. And the UK-India Tech Hub - which will bring together hi-tech companies from the UK and India through commercial partnership, mentoring, joint venture and R&D collaboration - will be recruited in early 2019.
Government to government exchange is also supported by a wealth of industry collaboration, for example:
Smart metering technology firm CyanConnode's Omnimish product has generated contracts worth $18.9 million in the last 18 months in India, and was acknowledged at the Independent Power Producers Association of India Awards. The company is working on a further contracts potentially worth $100 million

Tech solutions firm Equiniti Group will open a new Bengaluru office in Jan 2019, creating up to another 350 jobs – in addition to the existing 1000-strong Chennai office.

Newsfeed start-up Logically tackles disinformation online: they are launching their new consumer website at FTF. They are expanding their India platform – with plans to create 20 plus jobs and with projected revenues of over £21.7 million next year.

Venture Capital Firm Pontaq has launched a £50 million fund designed to create 2500 plus jobs in Fintech, Smart Cities Tech and Emerging Tech across the UK and India.

Life sciences firm QuantuMDx announced a new memorandum of understanding (MoU) with Goa-based Molbio to collaborate on infectious disease diagnostics e.g. tuberculosis – of which there were 2.74 million cases in India this year.
Sir Dominic Asquith, High Commissioner to India said:
When Prime Minister Narendra Modi and Prime Minister Theresa May announced the India-UK Tech Partnership back in April, they put the enabling power of tech at the heart of our bilateral relationship. We've seen fantastic progress since then, demonstrating the breadth and depth of our collaboration.

The UK-India partnership has embraced whole-heartedly the challenges and opportunities tech brings, with an exciting agenda promising to maintain both countries' position at the forefront of the tech revolution.
Mr. Amitabh Kant, CEO NITI Aayog said:
The UK is a natural partner to India in our mutual interests and ambitions in technology, and our collaboration is overseen by the highest offices in both countries. India could potentially be the Tech Garage for the rest of the world, and we are keen to invite the best technology companies and solutions to India – in areas like Healthcare, Manufacturing, Mobility, FinTech etc.

The FutureTechFest showcased several disruptive companies, and multiple areas of mutual interest were discussed. I am keen to see continued, strong momentum in the India-UK technology partnership.
The UK-India Tech Partnership was launched by PM Modi and PM May in April 2018. The Partnership builds on existing bilateral scientific, commercial and personal links, and creates a framework for deepening India-UK collaboration across all aspects of Tech – helping to create jobs, enhance productivity, promote trade and investment and tackle shared challenges.
The UK has always been at the cutting-edge of technology: from the birth of the Industrial Revolution in 1760 to this week's launch of the Graphene Engineering and Innovation Centre. The UK is home to more Nobel Prize winners than any country outside the United States.
This Partnership builds on an already strong trade and investment relationship. In 2017 India's stock of FDI in the UK was £8 billion – a huge 321% increase from 2016, exhibiting the greatest growth from any country and the largest stock of Indian investment in the UK over the last ten years. In turn, the UK is the largest G20 investor in India.
There is strong existing cooperation between the UK and India: 31% of Indian investments in the UK are in tech; creating 33,000 out of 110,000 jobs. The UK exported £344 million of digital services to India in 2016. The UK is India's second largest bilateral science partner and under the Newton-Bhabha partnership, India-UK collaborations will have risen from £1 million in 2008 to over £400 million by 2021.
For more information go to: The India-UK FutureTech Festival
The India-UK FutureTech Festival
Further information
HMG announcements
Healthcare AI Catalyst
The WHO estimates that India is short of almost half a million healthcare professionals – a number it would take decades to train. AI will therefore be essential to enable India to fulfil the aims of Ayushman Bharat and move towards Universal Health Coverage.
The UK is uniquely positioned to help - in Oxford, Imperial, UCL and the Alan Turing Institute, the UK has some of the leading academic centres for health AI in the world. And in the NHS, it has one of the largest and most uniform clinical datasets of any health system.
The five companies short-listed for the first phase of the Healthcare AI Catalyst are:
Visulytix
Use deep learning algorithms to identify Diabetic Retinopathy, Glaucoma and Age-related Macular Degeneration, and their software can be deployed in PHCs to eliminate the need for patients to travel to district hospitals for testing. Over one-third of Indian patients with diabetes are estimated to suffer from diabetic retinopathy, and India has the highest number of blind people of any country in the world.
Optellum
Developed out of Oxford University, Optellum have developed the world's first AI which can successfully identify lung cancer in digital CT scans. 85% of lung cancer cases in India are diagnosed at Stage 3 or 4 – by which time treatment is much less likely to be effective.
Tumour Trace
Use Optomagnetic Imaging Spectroscopy (OMIS) and AI to diagnose cervical cancer at the Primary Health Centre level. Currently India accounts for 25% of the world's deaths from cervical cancer.
Your.MD
Provide an AI tool which can support primary care health workers to correctly diagnose, and provide treatment recommendations for, common conditions. Currently their App is available only in English, but Your.MD are proposing to create a fully functioning Hindi version.
RELX Elsevier
Arezzo by RELX Elsevier is a clinical decision support tool, giving health workers best practice treatment guidelines in their local language.
Future Manufacturing Centre
The FutureTech Fest saw the first meeting of the UK-India Future Manufacturing Steering Group. This group will steer the design of a 'Future Manufacturing' Centre in India, based on the world-leading High Value Manufacturing Catapults in the UK.
Catapults are catalysts for the growth and success of advanced manufacturing in the UK. These Technology and Innovation centres work with companies of all sizes to bridge gaps in technology concept and accelerate commercialisation. Catapults offer access to leading edge equipment, expertise and an environment of company collaboration.
Cluster Partnerships
The Midlands Engine-Maharashtra partnership will explore all areas of Future Mobility, whilst the Northern Powerhouse-Karnataka partnership will focus on Artificial Intelligence and Data. Linking these world-leading centres of excellence will enable technology exchange, help start-ups to work together, and create jobs in India and the UK.
UK Digital Secretary Matt Hancock announced these Clusters in June during his India visit. Secretary of State James Brokenshire further progressed the 'Future Mobility' Cluster between Maharashtra and the Midlands Engine during his visit in October.
Company Profiles
CyanConnode
CyanConnode is a world leader in the design and development of radio frequency mesh network, providing highly secure communication systems. CyanConnode has commercial contracts for both State-owned and Private utility customers in India. These include the first of the 14 smart grid projects to be rolled out by the Ministry of Power.
CyanConnode transfers its solutions and knowledge into India through its Indian subsidiary, which employs more than twenty people, and provide millions of pounds of Foreign Direct Investment into the country. The company also has manufacturing facilities in India.
CyanConnode's latest product - Omnimesh - was acknowledged in the 'Innovation in Techno Commercial' category at the recent Independent Power Producers Association of India Awards 2018. Omnimish is a smart metering solution that enables utilities to gather complete, accurate and timely data. Its suitability for the Indian Automatic Metering Interface market is demonstrated by customer contracts in the last 18 months of a total value of $18.9 million. CyanConnode is currently working on a sales pipeline of qualified opportunities of over $100 million in India alone.
Equiniti Group
Equiniti is one of the UK's leading share registration services companies, and a leading provider of technology solutions for complex and regulated administration. They serve blue-chip enterprises and public sector organisations.
The Equiniti Group established their Chennai office in 2014, which grew to 1200 within 4 years. They will now open a new office facility in Bangalore in January 2019, generating 350 jobs. The new facility will primarily house Business Process Outsourcing (voice/non-voice) and IT development, testing and infrastructure teams. Equiniti also plans to expand its business to India by either acquisition or partnerships with Indian Companies.
Equiniti India has enabled Equiniti Plc to further develop and asses its highly scalable proprietary technology platforms which sit at the heart of the United Kingdom's financial and capital markets. Equiniti India is a vital part of future of the business – delivering successful projects which will keep Equiniti Plc competitive in the digital age.
Logically
Logically is a tech start-up that was founded in response to the challenge of disinformation online. Users are provided with an intelligent newsfeed offering them only credible information - whilst exposing them to all sides of the story. Algorithms identify the accuracy and credibility of a piece through: textual analysis of news content to identify misinformation indicators; examination of metadata to determine the quality, reputation and authority of source; and monitoring network behaviour to identify suspicious patterns.
The company has multiple offices across India and will be expanding in 2019, aiming to make at least 20 hires in the next six months, with projected revenues of over £21.7 million over the next year.
Logically will launch their new consumer website during the Future Tech Fest. The platform runs on multiple AI models which, when combined, are designed to give users a greatly improved experience – the MVP product includes AI models such as hate speech detection, entity sentiment analysis and article emotion detection. The company are taking a central role in Project Checkpoint - an initiative bringing together publishers, fact checkers, social media platforms & technologists from around India to fight misinformation during next year's General Election.
Pontaq
Pontaq is a venture capital firm, with a focus on cross border technology transfer between the UK and India. With operations in UK, India and the USA, the firm recently launched a £50 million fund (UK India Innovation Fund UIIF3) in July this year. The aim of the fund is to boost sustainable economic development through the creation of at least 2500 jobs across the UK and India. Sectors of focus include Fintech, Smart Cities Tech and Emerging Tech.
The fund has established partnerships with Haryana and Gujarat to help cross pollinate technology transfer and create jobs. Pontaq is also becoming a capital co-investor in Hyderabad-based ZestIOT, helping them move their operations to the UK (with the support of the Department for International Trade). It has committed $2 million of investment into the state of Tamil Nadu, for the Fintech Centre of Excellence. It is exploring investment into two other companies from Tamil Nadu to expand their operations to the UK.
QuantuMDx
QuantuMDx is a UK life science tools and molecular diagnostics company; it has designed and developed the Q-POC™ device, a rapid and portable DNA analyser. The Q-POC™ compresses a molecular diagnostics laboratory into a single use test cassette – as a result, it can be used anywhere from basic 'under-the-tree' settings to clinics and hospitals, providing results within 20 minutes. It is effective at testing for diseases such as TB and HPV.
QuantuMDx Group Limited and MolBio Diagnostics Private Limited (a molecular diagnostics company based in Goa) announced a Memorandum of Understanding at FutureTech Festival. The two companies will investigate the complementary and synergistic nature of their respective technologies. They will explore opportunities for joint working in infectious disease diagnostics, with an initial focus on genotypic drug resistance testing for those infected with tuberculosis (of which India has the highest number of cases in the world with 2.74 billion in 2018). Most deaths can be prevented by earlier diagnosis and 'right first time' treatment – but currently there is no full-range diagnostic solution available.
Both companies expect to see significant global growth and job creation as a result – not only in R&D, but also in product development, manufacturing and distribution.
Colt Data Centre Services (DCS)
Colt Data Centre Services recently announced their entry into India. Colt DCS already operate 24 state-of-the-art data centres across Europe and Asia Pacific, offering 24/7 security and local language support for their clients.
Colt DCS has now successfully acquired land in Mumbai and plans to build a 100MW IT hyper-scale data centre facility. The facility will be part of a campus style development which will allow the company to build out further data centres within the same location. To facilitate a rapid delivery of the site, Colt DCS has already secured a substantial super high-voltage power supply of 150MVA utility feed to the site.
The decision to expand into India has been driven by the substantial customer demand it has received for best in class data centre space, as the consumption of cloud services continues to thrive in India. Cloud revenue in India alone is predicted to grow at 25 per cent CAGR between 2016-2021.
The campus will allow for larger deployment of cloud computing services, and assist Indian authorities and businesses to grow and expand in the region in line with the Digital India campaign. Colt DCS will be the first mainstream western data centre operator to enter the Indian market.
Global Innovation Policy Accelerator (GIPA)
The UK and India are working under the Newton-Bhabha partnership to develop better and more effective programmes for boosting innovation collaborations through the Global Innovation Policy Accelerator. The Policy Accelerator is an executive development programme seeking to build a global network of innovation policy entrepreneurs. This is being delivered by Innovate UK, part of UKRI, through a NESTA-led consortium.
GIPA has been working with two team of Indian policymakers from Ministry of Electronics and Information Technology and from the Government of Maharashtra, over the past 6 months. The Programme will come to a close in early 2019 with a conference, during which both teams will be given an opportunity to present their projects to an audience of senior stakeholders.
Media
For media queries, please contact:
Sally Hedley, Head of Communications
Press and Communications, British High Commission,
Chanakyapuri, New Delhi 110021
Tel: 24192100; Fax: 24192400

Mail to: Kitty Tawakley
Follow us on Twitter, Facebook, Flickr, Eventbrite, Blogs, Youtube, Instagram
Published 13 December 2018