World news story
UK increases visa services in Lao PDR
The British Embassy announced to substantially increase the frequency of its visa application services in Lao PDR.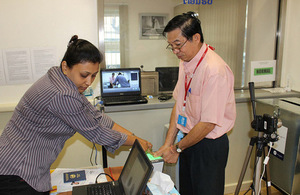 In 2013, the British Embassy launched a periodic visa application service in Vientiane – operated 4 times per year. The service has proved popular with residents of Laos as the UK gains in popularity as a destination for tourism, study and business. The service also provides a more convenient and less expensive option to travelling to the British Embassy in Bangkok to make a UK visa application. As a result, the UK has announced an increase in the frequency of these visa application services to 10 times per year. The service will operate on the following days in 2014: 12 June, 10 July, 25 September, 16 October, 20 November and 10 December. Outside of these times, customers can still make an application in Bangkok.
The service is relatively simple to use: After completing the online application to schedule an appointment for the visa service, customers give their fingerprints, have their documents checked and then drop their completed visa application into a self-addressed courier envelope. When the processing is completed, applicants' passports with visa are returned by courier to their nominated address in Laos.
Ambassador Philip Malone said:
This enhanced service reflects the importance we place on strengthening the UK's bilateral relationship with Lao PDR. I want to see more Lao people visiting, doing business, investing and studying in the UK, for the benefit of both our countries. The service also underscores our commitment to continually improving the visa service we offer our customers by providing them with products and services that better meet their needs.
The Vientiane Visa Application Service is provided in cooperation with the British Embassy Bangkok as well as VFS Global, UK Visas and Immigration's commercial partner in South East Asia. VFS Global operates most of the UK Government's visa application centres across Asia.
For more information on applying for a visa to visit to UK, visit the official visa and immigration page
The above dates will also be used to offer a new passport renewal service to British nationals living in Lao PDR.
Published 12 May 2014