World news story
UK Aid continues to support Lebanon's economy
Mercy Corps held a graduation ceremony under 'INTAJ' programme funded by UK Aid targeting economic opportunities in Bekaa and North Lebanon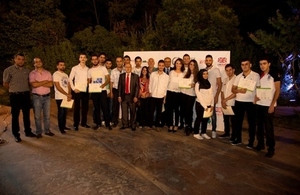 With over 2000 people trained, 400 jobs created and productive links established with the private sector between April 2016 and July 2017, Mercy Corps held a graduation ceremony in Anjar for the ongoing UKaid supported 'INTAJ' programme. 510 graduates from 27 different courses rocked the stage of Anjar's Al Shams restaurant.
The training courses - organised by 10 NGO's and institutions from the private sector - were aimed at building the practical and technical skills capacity of participants so that they may enter Bekaa's job market. From insurance and financial consultancy to photography and filming to sales techniques and communication training the beneficiaries are ready to hit the job market with over 40 jobs secured already.
Sahar Al Nouri, Mercy Corps Director of Programmes read the statement on behalf of the British Embassy Beirut. The statement congratulated the graduates reiterating how proud the UK is of its cooperation with Mercy Corps in delivering the project so effectively. It added:
We have seen first-hand how this programme is supporting people, businesses and communities across the Bekaa and north governorates. We are keen to continue working with Lebanon on opportunities that are making a real difference in people's daily lives through our strong and longstanding relationship. Lebanon is one of the most resilient and dynamic countries in the world and the UK is by Lebanon's side, making sure this country remains resilient and promotes a culture of peace and diversity.
George Antoun, Mercy Corps' Country Director, thanked UKaid for their support without which the programme wouldn't have been a success. He recalled the challenges faced in helping the youth and the general population amidst the rise of unemployment specifically in smaller cities, and areas outside Beirut, highlighting the importance of the 'INTAJ' programme that has improved people's lives.
The UK has been supporting Mercy Corps 'INTAJ' programme since October 2015, targeting economic opportunities in the Bekaa and North Lebanon. By March 2018 we will have invested £12.7m in this programme to support vulnerable Lebanese communities and Syrian refugees by increasing employment, training people in the skills required to get jobs, building stronger businesses and working with communities to support the development of the solid waste management and recycling industry.
Published 15 September 2017