World news story
UK Immigration Minister visits Inventure Academy, Bengaluru
The visit was organised with the British Council to one of Bengaluru's top international schools.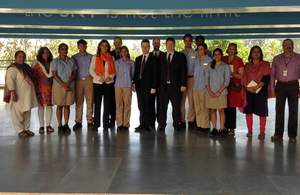 The UK's Immigration Minister James Brokenshire met school students from Inventure Academy, Bengaluru, today, to find out their views on UK education and studying overseas.
The Immigration Minister is currently on a five-day visit to India where he met important UK visa customers from the education, travel and business sectors, in Delhi and Bengaluru, to gain insight into how they use the visa service.
At the roundtable discussion, around 15 students were asked what considerations they took into account when choosing a university and when deciding whether or not to study overseas.
The minister outlined the strengths of a UK education and that the UK is home to some of the most respected and recognised universities in the world.
Immigration Minister James Brokenshire said:
India continues to be one of our largest and most important visa markets, and whilst here I have been listening to our customers to gain a better understanding of how our immigration policies work for them in practice.

Today has provided a really positive opportunity to speak to students to find out both how they view UK education and if the UK's immigration policies have an impact on their decision to study at a UK university.

The UK government is keen to see more Indian students choosing to study at our world-class universities and they will receive a warm welcome. Our visa policy supports this aim and we continue to have an excellent offer for students - nine out of 10 Indian students who apply for a student visa receive one and top graduates can stay in the UK, after their studies, if they secure a graduate level job.
The visit builds on the success of Prime Minister Modi's visit to the UK in November 2015 when Prime Minister Cameron offered to India in its goal to prepare its next generation for the 21st century. The two leaders decided to mark the year 2016 as the UK-India year of education, research and innovation. This will highlight the strengths of the bilateral relationship, drive further collaboration, including a range of digital technology enabled education and training initiatives, so that both countries create a new 21st century framework as partners in education, research and innovation partners, in the global context.
Inventure Academy Principal Mallika Sen said:
We were honoured to have the UK Immigration Minister James Brokenshire with us at Inventure Academy today. As increasing numbers of our graduates wish to pursue their higher studies overseas, it is important for them to know about various options open to them globally. The UK has some of the finest universities and some of the graduates from the class of 2016 are indeed privileged to have been accepted at some of these prestigious institutions. These students benefited greatly from Mr. Brokenshire's visit.
Further information:
James Brokenshire is responsible for immigration policy/legislation, EU, Her Majesty's Passport Office, asylum, Border Force, immigration enforcement, individual case decisions, UK Visas and Immigration and extradition and mutual legal assistance (MLA).

in the year ending September 2015 the visa statistics show that 89% of all Indian students who applied for a Tier 4 visa received one.
For media queries, please contact:
Stuart Adam, Head,
Press and Communications
British High Commission, Chanakyapuri
New Delhi 110021
Tel: 44192100; Fax: 24192411

Mail to: Manjunath Kota Sripathy
Follow us on Twitter, Facebook, Flickr, Storify, Eventbrite, Blogs, Foursquare, Youtube, Instagram, Vine, Snapchat @UKinIndia, Periscope @UKinIndia
Published 19 February 2016