World news story
UK Home Secretary: Commitment to a strong and stable Lebanon
During her meeting with Interior Minister Nohad Machnouk, UK Home Secretary Amber Rudd reiterated the two countries' strong bilateral relations.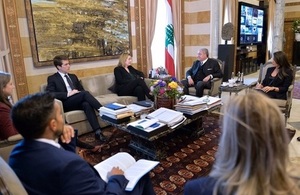 UK Home Secretary Amber Rudd has issued a statement following her visit to Lebanon on 19 February. It was the Cabinet Minister's first visit to the country since assuming her post in 2016. Rudd met the Lebanese Minister of Interior Nohad Machnouk and discussed the two countries' strong bilateral relations. This follows a visit by Nohad Machnouk to the UK to meet the former Home Secretary, Theresa May, in 2016.
The one-day visit was an opportunity to see firsthand how the UK's £628 million in assistance to Lebanon is helping the country maintain security and stability and supporting local communities coping with the Syrian refugee crisis. The visit follows on previous visits by the Middle East Minister Alistair Burt, the Security Minister Ben Wallace and former Secretary of State for International Development.
The UK Home Secretary visited an Informal Tented Settlement in the Bekaa Valley where she met refugee families and spoke to UN agencies supporting the UK's work on resettling 20,000 of the most vulnerable refugees of the Syria conflict to the UK by 2020. The UK's resettlement schemes offer a safe and legal route to the UK for the most vulnerable refugees. We purposefully target those in greatest need of assistance, including people requiring urgent medical treatment, survivors of violence and torture and women and children at risk. Over half of those resettled to the UK have been children.
On her return to London after her visit the Home Secretary said:
I was very pleased to visit Lebanon for the first time, a country that has shown enormous generosity in hosting refugees since the beginning of the conflict in Syria in 2011. Lebanon's security and stability is very much the UK's security and stability, and our support to Lebanon with over £600m of assistance since 2011 is a testament of that. The UK's partnership, friendship and commitment to Lebanon is as strong as it has ever been, and I am proud that my government is standing shoulder to shoulder with Lebanon at this time.

I held a constructive meeting with the Minister of Interior Nohad Machnouk where we discussed a range of issues, and what more we can do to further strengthen our countries' bilateral relationship. We discussed Lebanon's participation in Rome II conference on 15 March and the important role of the Internal security Forces. I am proud that the UK is one of Lebanon's most significant partners on security, contributing over £84 million to the ISF and LAF since 2011, and that we are working together to improve human rights. We also reviewed our strong counter terrorism relations. I also recognised the Minister's work in preparing for the upcoming elections, which will reaffirm Lebanese citizens' democratic rights, and hopefully see increased female representation in the Lebanese Parliament.
Published 22 February 2018