World news story
UK helps Lao companies to prepare for the AEC
British Embassy hosts forum to help the Lao private sector better understand the impact of the WTO and AEC trade agreements on their businesses.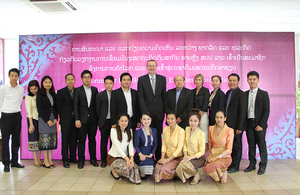 The British Embassy in Vientiane this week partnered with the Foreign Trade Policy Department in the Ministry of Industry and Commerce (MOIC) to host a half-day forum to build awareness of Laos' trade agreements under the World Trade Organisation (WTO) and ASEAN Economic Community (AEC), and better prepare for the challenges these agreements will bring to the way they do business.
The forum held at ICTC on Tuesday 16 December 2014 aimed to assist the Lao business community with a better understanding of trade negotiations and agreements under ASEAN and the WTO, as well as providing the skills required to work within a global market.
Engaging the private sector, government departments, business students and other stakeholders, the forum created a platform for interaction and the exchange of ideas and experiences related to economic integration. Guest speakers included representation from Dao Coffee Company, one of Laos' most successful exporters.
The ASEAN Economic Community comes into existence on 31 December 2015. ASEAN as a whole represents one of the world's biggest markets with a combined population of 625 million people and combined GDP of £1.53 trillion. ASEAN has a growing number of middle class consumers and a youthful population presenting many business opportunities, including for Lao businesses. Laos became an official member of the World Trade Organisation in February 2013.
Published 16 December 2014