World news story
UK Helps Improve Aviation Security in Zanzibar
British High Commissioner hands over specialist aviation security equipment in Zanzibar.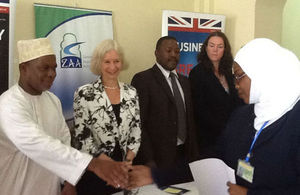 On a visit to Zanzibar with the Foreign and Commonwealth's Head of East and West Africa Department, Ms Harriet Mathews OBE, British High Commissioner, Dianna Melrose, formally handed over specialist aviation security equipment to the Zanzibar Airports Authority on Friday 4 October at Zanzibar Airport.
The equipment, including x-ray trays, test pieces for X-ray machines and 'Walk Through Metal Detectors', as well as a selection of Aviation Security DVDS and other training aids, will assist in broadening aviation security detection capability at Zanzibar International Airport.
Speaking at the event the High Commissioner said:
"Terrorism is a global issue and the UK Government is keen to continue its close working relationship with the authorities in Zanzibar and to strengthen the existing aviation security regime to tackle the terrorist threat. The UK is committed to helping Zanzibar improve its aviation security capability and I see today as a further important step in continuing the good relationship we have between the UK and Zanzibar.''
Published 4 October 2013