News story
UK Government will focus on "families, fairness and the future"
The Secretary of State for Scotland, has said this year's Queen's Speech contains measures which will boost the Scottish economy and jobs.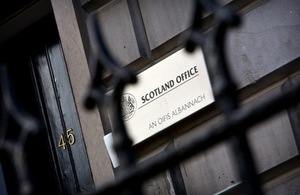 This year's Queen's Speech contains measures which will boost the Scottish economy and jobs, build a fairer pensions system and support working parents with childcare costs, Michael Moore said today.
The Secretary of State for Scotland welcomed the legislation and other measures announced at the State Opening of Parliament and said they represented a range of ways to improve life for people living in Scotland.
There are 13 Bills which apply in Scotland, either in full or in part, from a total of 15.
Michael Moore said: "The UK continues to deliver positive change for Scotland under devolution, supporting families with childcare costs, bolstering the economy and business and protecting pensions.
"The Bills and measures we are setting out today are good for Scotland and strengthen the position of employees and employers alike. They will also make progress on issues such as the future of our high-speed rail network. The next session will see this government continue to focus on families, fairness and the future."
The speech also contained a reference to the UK Government continuing to make the case for Scotland to remain in the UK, with further Scotland Analysis papers due in the coming weeks and months.
The measures will see benefits for Scotland which include:
Additional support for childcare for 210,000 families, with 310,000 children, in Scotland
70,000 businesses in Scotland sharing in saving £100m from additional National Insurance contributions relief
35,000 firms in Scotland taken out of National Insurance contributions altogether, with every business and charity entitled to a £2,000 Employment Allowance
The introduction of a single-tier pension system
The development of the high-speed rail network, which will reduce journey times between Scotland and the rest of the UK
Draft provisions for clearer rights for consumers across the UK
The Bills mentioned in the speech are:
Anti-Social Behaviour, Crime and Policing Bill
A variety of measures to tackle anti-social behaviour and other issues
Applies to Scotland in part - – including reserved areas relating to firearms, extradition and terrorism, and in some devolved areas (with agreement of the Scottish Government) such as the Dangerous Dogs Act 1991
Care Bill
Reforms care and support
Applies to Scotland in part- including on cross-border provisions in relation to care and support and on reform of the Health Research Authority
Defence Reform Bill
Designed to improve the procurement of defence equipment
Applies to Scotland
Deregulation Bill
Reduces red tape and unnecessary regulation
Applies to Scotland
High Speed Two Hybrid Bill
Allows the UK Government the right to construct and maintain HS2
Applies to Scotland in part
HS2 Paving Bill
Provides the financial powers to proceed with HS2 project
Applies to Scotland
Immigration Bill
Reforms immigration law, strengthening enforcement powers and protecting public services
Applies to Scotland
Intellectual Property Bill
Protects design rights for businesses
Applies to Scotland
Local Audit and Accountability Bill
Does not apply to Scotland
Mesothelioma Bill
National Insurance Contributions Bill
Reduces the cost of employment for firms
Applies to Scotland
Northern Ireland Bill
Applies to Scotland in part (Constitutional Bills apply across the UK)
Pensions Bill
Introduces a single-tier pension and other measures
Applies to Scotland
Offender Rehabilitation Bill
Does not apply to Scotland
Water Bill
Reforms the water sector, providing industry resilience and wider customer choice
Applies to Scotland in part
Total: 15 Bills - 13 apply in Scotland. 8 apply in full, and 5 in part.
Published 8 May 2013