World news story
UK government engagement on UK-Kyrgyz business opportunities
Leigh Turner, Istanbul-based UK Trade and Investment's Director General, completed a successful visit to Kyrgyzstan on Tuesday 23 April.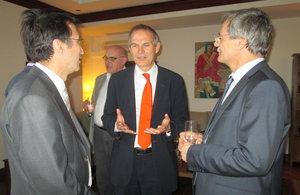 Leigh Turner, Istanbul-based UK Trade and Investment's (UKTI) Director General for Turkey, Central Asia and South Caucasus, completed a successful two-day visit to Kyrgyzstan on Tuesday 23 April.
Since opening in March 2012, the British Embassy in Bishkek has been exploring ways to assist UK companies interested in entering the Kyrgyz market, including the commissioning of a scoping report on potential opportunities for UK business. The aim of Mr Turner's visit was to develop a deeper understanding of commercial opportunities and the investment climate through meetings with senior government officials and local and foreign business representatives in Bishkek.
In discussions with Deputy Minister of Economy Mr Adylbek Kasymaliev and the Head of Economy and Strategic Development Department at the Prime Minister's Office Mr Tolkunbek Abdygulov, Mr Turner set out how the Kyrgyz government's commitment to economic development, centred around reforms to promote political stability, economic liberalism and the rule of law, would help to create an environment that built investor confidence and facilitated investment by British businesses.
And in a series of meetings with leading foreign companies already represented in Kyrgyzstan, Mr Turner learned about the opportunities and challenges of operating in the developing Kyrgyz market. This informed his thinking on how British Government support could assist British businesses either already operating in Kyrgyzstan or considering entering the market.
Mr Turner also had time to give a media interview and speak to students from the International Relations Faculty of the Kyrgyz National University about the work of his department in the Central Asian region, and to engage in a lively Q&A session with students of the University's International Relations faculty.
Following his visit, Mr Turner said:
Kyrgyzstan has a degree of democracy and media freedom which sets it apart. There are important opportunities in mining, tourism and food-processing. Resident business people say it's a great place to live, and that if the country can maintain political stability and ensure commercial transparency and predictability it will stand a great chance of generating growth and attracting inward investment. I hope the Embassy, backed up by our regional teams in Istanbul and Moscow, can help British companies be part of that success.
Published 24 April 2013