News story
UK Government cash for Armed Forces Day
Scotland Office Minister David Mundell pledges additional funding to support Armed Forces Day in Stirling.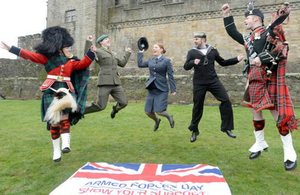 The UK Government has announced additional funding of £55,000 towards the Armed Forces Day National Event in Stirling on June 28, bringing its total contribution to £80,000.
This, combined with private sector sponsorship and anticipated support from the Scottish Government, means that Stirling Council is on course to meet its fundraising target of £190,000.
Stirling Council Leader Johanna Boyd said:
The Armed Forces Day National Event will be a spectacular occasion - one of the biggest events of 2014. It will bring together people from the whole of the UK for a really fun day that celebrates the contribution the Royal Navy, Army and Royal Air Force make to our society.

We have been in positive discussions with the UK Government for some time now about the cost of providing enough temporary car parking and warmly welcome this generous extra funding.

Stirling's links with our Armed Forces stretch back for centuries and we are particularly proud to be hosting this event in the year which marks the 70th anniversary of D-Day, and the liberation of Europe by soldiers from every part of Scotland, England, Wales and Northern Ireland.
Mr Mundell said:
I am delighted to announce a further £55,000 of funding from the UK Government to support the event, bringing our total contribution up to £80,000. We are proud to play our part in making Stirling's Big Weekend a resounding success.

The Armed Forces Day National Event is a chance to show our support for the Armed Forces - serving Regular and Reserve personnel, cadets and veterans. Stirling is one of our most beautiful cities and it will be a superb focal point for the UK-wide celebrations.

Our UK Armed Forces contribute a huge amount to our safety and security. They act as peacekeepers all round the world, they are involved in combatting drug trafficking and piracy and do vital humanitarian work including air sea rescue.

As well as marking significant anniversaries in the First and Second World Wars, this year also sees the end of combat operations in Afghanistan and the return of many of our troops. Scotland has more than 400,000 veterans; they and their families deserve our support for all they have done.
The Armed Forces Day National Event will include:
Parade and Drumhead service
Flypast of current and vintage aircraft - including the Red Arrows
Parachute displays
Tri-Service simulated combat and rescue mission
Tanks and other current military vehicles
A collection of 26 vintage military vehicles
The largest ever Veterans Village
Live music and entertainment including Highland Dancing
Published 9 June 2014