World news story
UK funds UNICEF project on preventing violence among children
UK donates funds to UNICEF for supporting children who have suffered from violence and to prevent violence among children in Kyrgyzstan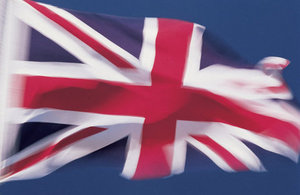 Her Majesty's Ambassador to the Kyrgyz Republic Judith Margaret Farnworth and UNICEF Deputy Representative Raoul de Torcy have signed an agreement to launch a new joint project titled "Mitigating the effects of and the potential for conflict in Kyrgyzstan through targeted investments in the protection of the most marginalized children and youth". The ceremony of signing took place at the British Embassy Bishkek on 13 November.
The implementation will take place mainly in the north of Kyrgyzstan, focusing on issues of violence, justice for children and the capacity development of child protection and justice for child stakeholders. The project will run for almost 2 years, the overall budget is 958,057 USD (£595.990).
As part of the project, vulnerable and marginalised girls and boys will benefit from improved social services (psychological, legal rehabilitation and social support to children who have suffered from violence and abuse). Children who are about to be released from juvenile justice institutions will receive re-integration support (such as life skills programmes). The programme will promote; social cohesion between and within communities and respect for child rights and to help reduce inequities, tensions and future conflict potential.
This project is the continuation of the successful collaboration of the British Government and UNICEF in Kyrgyzstan. Currently, UNICEF is implementing a three year programme also funded by the British Government aimed at achieving equity in 55 municipalities in the areas of health, preschool and school education, youth development and child and social protection in the south of the Republic.
Published 13 November 2013