World news story
UK Foreign Minister welcomes Indian election results
The UK Government congratulates India's Prime Minister-elect, Narendra Modi, and the Bharatiya Janata Party (BJP) on their election success.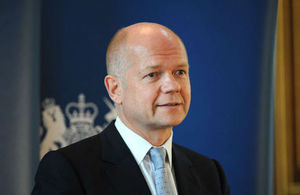 Foreign Minister William Hague said:
I congratulate Narendra Modi and the BJP on their success and look forward to forging an even closer partnership with India in the months ahead.
With 815 million eligible voters, 915,000 polling stations, and nine days of voting over five weeks, India has seen the largest parliamentary election in the world.
The UK has strong ties with India and the British Government looks forward to working with the new Indian Government to build on this relationship and deliver security, growth and prosperity for both our nations.
Marcus Winsley, Director,
Press and Communications
British High Commission,
Chanakyapuri, New Delhi 110021
Tel: 44192100; Fax: 24192411

Mail to: Kitty.Tawakley@fco.gov.uk
Follow us on Twitter, Facebook, Flickr, YouTube, LinkedIn, Storify, Eventbrite, Blogs, Foursqare
Published 16 May 2014