World news story
UK Export Finance voted best export credit agency
David Godfrey, UK Export Finance CEO and Alderman Fiona Woolf, the Lord Mayor of the City of London visited Tanzania in September 2014 to express their support for businesses in Tanzania.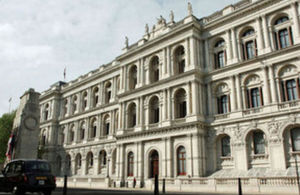 The UK Export Finance has been voted "Best Export Credit Agency" by the readers of Global Trade Review (GTR). GTR is a respected Trade publication who also organise trade conferences and seminars which are among the best attended in the calendar. Having been asked which financial institutions are the best internationally the readers of Global Trade Review and other companies engaged in cross-border trade activities, voted for UK Export Finance as the Best Export Credit Agency.
David Godfrey, CEO of UK Export Finance recently visited Tanzania with Lord Mayor of City of London where he expressed interest in UK export finance supporting business in Tanzania.
'As the UK's official export credit agency, UK Export Finance is able to offer competitive floating rate guarantees, or through our new direct lending facility, fixed rate finance at the lowest level permitted by international rules. By taking advantage of the UK's AAA credit rating, the Tanzanian Government will be able to obtain finance over long tenors, usually up to ten years or longer, to support the ministries when procuring goods and services from the UK.
UK Export Finance's flexible foreign content policy permits up to 80% of the contract value to be procured from countries outside of the UK. For Local Content, i.e. goods and/or services procured or rendered from Tanzania, UK Export Finance support would be limited to a maximum of 30% of the Exported Element of the eligible UK contract in accordance with the terms of the OECD Arrangement on Officially Supported Export Credits.'
Published 12 December 2014