World news story
UK shares expertise in sports infrastructure
From:

Part of:

Published:

28 March 2014

Last updated:

3 April 2014, see all updates
This was published under the 2010 to 2015 Conservative and Liberal Democrat coalition government
UK experts visit Taipei to share experience in sports infrastructure and consultancy services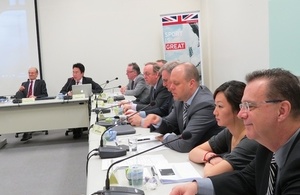 Co-organised with the Sports Department of Taipei City Government, a "Global Sports Workshop" was held on 28 March by the British Trade & Cultural Office (BTCO) in Taipei to introduce the diversified range of British business expertise relating to global sporting events. A delegation of experts in sports infrastructure and consultancy services shared best practice at the workshop on how UK can work with Taipei and assist Taipei City Government in delivering a successful University Games in 2017.
Workshop
6 UK companies were invited to demonstrate their expertise at the workshop. They were: * ICON World * Production Resource Group * ES Global Solutions * Quadratica UK * Global Infusion Group * Stadium TM
Themes included: * look of the Games * technical AV support for special events * temporary sports venues for major events * eLearning solutions for the 21st century * catering for major events * the experience of athletes' villages, venue operations and volunteers.
In addition, Dr Beatriz Garcia, Head of Research from the Institute of Cultural Capital of University of Liverpool, shared her views on mega events and city positioning in balancing social, cultural and economic impacts.
The 6 UK companies in this mission have worked on delivering sporting expertise on the world stage, such as sport event services, stadium design, low carbon games consultancy, and training provision for volunteers' programmes for major sporting games throughout the world. As Taipei City is in preparation to stage the 2016 World Design Capital and the 2017 Universiade, the discussion at the workshop on focussed on how holding important world mega games will encourage further co-operation between the UK and Taiwan.
For more information, please contact Ms Lynn Li, Head of Infrastructure Team at Tel: +886 2 8758 2008
Document information
Published: 28 March 2014
Updated: 3 April 2014
change date
typo
change format and writting style according style guide
First published.