UK encourages investment in Agribusiness sector in Upper Egypt
Arab Partnership's project 'Small Farmer Market Development and Investment Initiative' sponsors a competition to encourage small, socially-minded businesses in the agricultural sector.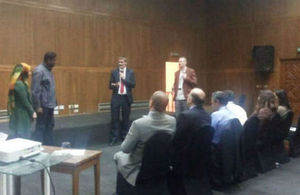 Arab Partnership First Secretary in Egypt, Sam Grout-Smith, participated in the judges panel in the Agribusiness competition which took place on 24 November, 2013, within the framework of the Rise Up Summit on entrepreneurship in Cairo.
The competition was organised by MCEgypt who is currently implementing 'Small Farmer Market Development and Investment Initiative' in Upper Egypt to provide research, data and advice to agribusinesses with a social element to their business plans, as well as securing financing for their expansion.
Six businesses pitched their ideas to the panel made up of entrepreneurs, business people, agricultural experts and Mr Grout-Smith. They laid out the social and financial cases for their business plans and the state of the market demand for their product or services. The businesses selected had already made it through an earlier round and had further coaching and business development advice from MCEgypt. The standard of all the plans was extremely high and the judges had a difficult choice in selecting a winner.
After much deliberation, the judges decided that the winning business was Nile Co. and Nakhla from Aswan. This initiative had brought the two companies together, merging into a single business to better pursue their business plan. Their plan is to maximise the use of palm fronds to manufacture good quality and ecologically-sound furniture, domestic items and toys as well as using palm waste to produce low-cost animal feed. The business will receive $5,000 and ongoing technical support to expand the business, upgrade their marketing and promotion and accordingly expand their labour force. All the runner up companies will also receive support from MCEgypt as part of the wider AP-funded project.
Speaking at the event, Mr Grout-Smith said "Supporting small businesses to grow and create jobs while also ensuring a positive social or environment impact is a key challenge in Egypt. I am proud that the UK, through MCEgypt, can assist in this process. I wish all the entrants the very best of success as they build their companies and develop their staff."
'Small Farmer Market Development and Investment Initiative' is a project funded by the UK through the Arab Partnership, which is the UK's strategic response to the Arab Spring and to the people of Egypt as they move towards a more prosperous and democratic future.
Published 1 December 2013