World news story
UK Development Minister visits Jordan
UK Development Minister Rt Hon. Priti Patel spoke of UK's commitment to Jordan's security, stability and economic sustainability.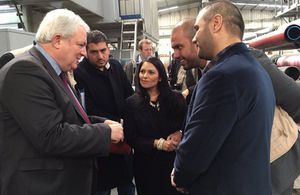 On the 5th of February International Development Secretary Priti Patel visited Jordan. This was her second visit to Jordan in less than a year.
During her visit, Ms Patel met with HE Hani al-Mulqi, The Prime Minister; HE Imad Fakhoury, the Minister for Planning and International Cooperation, Minister for Labour, Mr Ali Ghezawi, Minister for Education, Mr Omar Razzaz and the Minister for Industry, Trade and Supply, Mr Yarub Qadah.
She also visited a Jordanian factory that has registered to export under the EU Rules of Origin agreement, and will soon begin employing more Jordanians to help meet the resulting increased demand.
She also visited UK-funded programmes at Azraq refugee camp, including newly constructed water tanks that have been provided by the UK to ensure that the local Jordanian community has sufficient water as it generously hosts large numbers of Syrians.
Speaking during her visit, Priti Patel said:
It is one year since the historic London conference that brought together the international community to develop a new approach to supporting the countries most impacted by the Syria crisis. To mark this anniversary, I'm pleased to be back in Jordan for my second visit in less than a year.

The UK continues to lead the international response to this terrible crisis, exceeding the commitments we made in London a year ago. And we continue to stand alongside Jordan, with UK support in the last year double that of the year before.

This is making a real difference impact for Jordanians. UK support is enabling the Jordanian government to make progress in key areas. This includes the s plan to get all children into education this year – an initiative for which UK support is providing classroom space, training for teachers and maintenance of school equipment.

UK support has also helped provide basic services for Jordanians, including parts for a new wastewater pipeline between Amman and Zarqa. And we're helping create the jobs that young Jordanians need, including providing engineering skills training in Ma'an, where more than 80% of participants are now employed.

Much has been achieved but much remains to be done. Jordan is a key ally of the UK's. I have made clear today that we remain totally committed to ensuring your continued security, stability and economic sustainability for the long term. We will continue to work closely with the Jordanian government to see how best we can support these priority areas.
Background Information:
The Jordan Compact was signed at the February 2016 'Supporting Syria and the Region' conference, co-hosted in London by the UK, Germany, Norway, Kuwait and the UN. The conference saw $12 billion pledged by the international community – the most ever pledged in a single day - to support Syria and its neighbours in the face of the seemingly intractable conflict in the country.
Since the start of the Syria crisis, the UK has provided more than three quarters of a billion dollars of support to Jordan, including $100 million in support for education. That includes almost a quarter of a billion dollars in support this year, more than double what we provided last year.
Published 6 February 2017