World news story
UK Deputy High Commissioner to the Gambia opens training
UK Deputy High Commissioner opens Gambian Training event on eliminating violence against women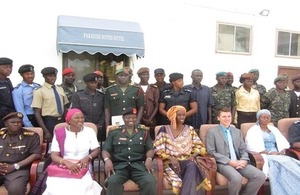 UK Deputy High Commissioner to The Gambia George Sherriff yesterday (18/07/13) officially opened a training workshop being run by the Female Lawyers Association of the Gambia (FLAG) to increase the professional capacity of Gambian law enforcers to combat 'violence against women'.
FLAG were recently successful in being awarded funding from the British High Commission Banjul to train members of the Gambian Police Academy, Gambian Armed Forces and Gambian Immigration in understanding the international, regional and domestic legal framework to combat gender based violence.
Speaking at the opening ceremony Deputy High Commissioner George Sherriff said –
Ladies and gentleman, distinguished guests and delegates. It is with great pleasure that I have been invited here today for the opening session to mark the beginning of a British High Commission funded project with The Female Lawyers Association of The Gambia. Through this project we have funded this three day workshop to enhance the professional capacity of law enforcers across the country to deal with cases of violence against women. I am pleased to see representatives from the police, army and immigration services here today. This shows the commitment by the Government of The Gambia to make progress on this priority area. I am sure the training will be a resounding success.
British High Commission funding as part of this project will also allow FLAG to sensitise community and religious leaders on these issues; fund litigation strategy training for FLAG members, and help fund several pro-bono cases for women to take up issues of gender based violence in the courts.
Protecting and promoting the rights of women is a key policy objective of the British High Commission here in the Gambia. Discrimination and violence affect the lives of millions of women and girls worldwide. It impedes their full participation in society and prevents them from realising their full potential. Equality is fundamental to building strong economies and fairer, stable societies. Gender equality and women's empowerment is therefore a human rights priority for the UK. The UK is a key player in advancing women's rights internationally through our work to promote and protect the rights of women and by encouraging other countries to fully implement their international gender equality commitments.
Many of you may not know that inspirational Gambian Fatou Bensouda, Chief Prosecutor of the International Criminal Court has been working with the UK government on the issue of gender and sexual based violence. Last December Ms Bensouda joined the UK Foreign Secretary William Hague in London to mark the 'International Day of Women Human Rights Defenders'.
Fatou Bensouda and the International Criminal Court are working together with the British Government to prevent sexual violence in conflict situations by increasing the number of perpetrators brought to justice before international courts. The UK has also recently set up a team of experts who can deploy to conflict areas to work with the United Nations in investigating allegations of sexual violence. Mrs Bensouda wrote a special blog about this event for the UK Foreign and Commonwealth Office, copies of which I have here in case anyone is interested.
In this vein the aims of FLAG to eliminate violence against women, promote freedom of expression and educate and enable women to participate effectively in the development process of The Gambia, echoes our own objectives in the promotion of women's rights and I am pleased that the British High Commission is able to partner with such an effective and passionate organisation such as FLAG.
I would like to thank FLAG for their tireless work in upholding the rights of women and children in the Gambia. I also want to thank all of the law enforcement personnel for taking part in this training and giving up their valuable time helping to help those in need. I hope that this training programme will be beneficial and that it helps create a protective environment for women and children across The Gambia.
I am delighted to declare this training officially open and Ramadan Mubarak to everyone.
Published 19 July 2013
Last updated 24 July 2013
+ show all updates
British High Commission opens training
First published.