World news story
UK delivers: Sarafand's fishermen ready to throw the net
UK delivers: Fletcher inaugurates fish market, water tank in Sarafand, announces $13.5m of new funding to the Host Communities programme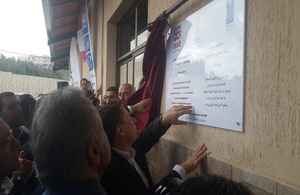 The UK has helped over 13,000 people in Sarafand. Fish is fresher, safer and easier to buy in Sarafand, thanks to two UK funded projects in Sarafand-South Lebanon. With actions and not just words, the UK's Department for International Development (DFID) supported 48 projects for the total of $8.3 million, part of the Ministry of Social Affairs - UNDP Lebanese Host Communities programme.
The fish market, open since 2001, sustains 1,000 fishermen in South Lebanon. After years of under-investment, in 2014 British Ambassador Tom Fletcher found it looking neglected and empty. Thanks to DFID support to UNDP's Lebanese Host Communities programme, it is now refurbished and bustling with life again.
In a visit to Sarafand, British Ambassador Tom Fletcher accompanied by UNDP's Resident Representative, UN Humanitarian Coordinator and UN Resident Coordinator, Ross Mountain inaugurated a fish market and a water tank. The newly renovated fish-market will allow fishermen to head to sea, throw their nets and make use of the new facility to better market their products. The water tank will improve access to water in the most excluded areas of Sarafand.
Speaking at the fish market, Ambassador Fletcher said: 'I was here less than a year ago. We listened to the fishermen's needs, we promised and we delivered. I'm happy to be back today to see how the UK responded. This week we celebrate Lebanese-British Business Week and this project is one example of how the UK is supporting Lebanon's economy. I'm also pleased to announce a $13.5 million of new funding expanding from 20 municipalities to over 40 throughout Lebanon.'
Ross Mountain, UNDP Resident Representative, UN Humanitarian Coordinator and UN Resident Coordinator, said "Fishermen Cooperative of Sahel El Zahrani is the biggest fish market in Lebanon. More than 1.000 fishermen, from different villages in Sahel El Zahrani region, are working in this fish market that was in bad conditions. Thanks to UK fund that rehabilitated and equipped the fish market which helped in increasing the fishermen's income through improved economic activities. UNDP is keen to work closely with the Lebanese government/municipalities and international community to improve life of people and we are here to help not only the Syrian refugees but also the Lebanese communities ".
Also present was the Governor of south Lebanon Mansour Daou, representatives from the Ministries of Social Affairs, Agriculture and Public Works, Head of the Municipalities Union for Sahel Zahrani Ali Matar, Mayor of Sarafand Dr. Hussein Khalifeh and President of the fish-market cooperative in Zahrani, Mohamad Salim.
The UK response to Lebanon's humanitarian crisis has reached $300 million and has helped hundreds of thousands of Lebanese and Syrian refugees through international NGOs operating throughout the country.
Notes to editors
This programme – funded by the Department for International Development (DFID) - will improve services at a local government level, directly benefitting local communities. It will deliver improved municipal and basic services in the most affected municipalities (e.g.: medical equipment and supplies for healthcare centres, water purification equipment, water tankers, garbage containers, rehabilitation and maintenance of public wells and more). More about how the UK is responding to the humanitarian crisis in Syria and neighbouring countries.
Published 20 March 2015