World news story
UK delivers Land Rover to Lebanese Army Border Regiment
This was published under the 2010 to 2015 Conservative and Liberal Democrat coalition government
UK's £10m 'train and equip' project assists the Lebanese Army in strengthening the capabilities of regiments patrolling border with Syria.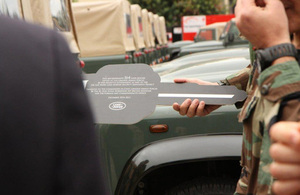 Minister of State for the Middle East Hugh Robertson MP visited the logistics base of the Lebanese Armed Forces in Kfarshima, accompanied by Ambassador Tom Fletcher, Brigadier General Maroun Hitti, Deputy Chief of Staff Plans, Brigadier General Manuel Karejian, Acting Deputy Chief of Staff Equipment, and the Defence Attaché Lt Col. James Cushnir.
The Minister saw firsthand how a £10m UK 'train and equip' project is assisting the LAF to strengthen the capabilities of the Land Border Regiments now patrolling the north and north east border with Syria. A joint LAF-UK project team briefed the Minister on the ongoing construction of 12 border watchtowers, and demonstrated to the Minister a range of new equipment being delivered to the Land Border Regiments, including vehicles, body armour, radios, HESCO bastion, and long range observation cameras. The team also briefed the Minister on the training programme that accompanies the equipment, and the work of the Joint Project Implementation Team to integrate these new capabilities into the Land Border Regiments' operations.
Minister Robertson then inspected 70 of the 164 Land Rovers being donated to the LAF for border patrolling, and presented the keys for the vehicles to Brigadier General Manuel Karejian, Acting Deputy Chief of Staff Equipment.
Following his visit the Minister said: ' I am very pleased to see how the UK is supporting the LAF in response to the LAF Capability Development Plan. It is a great honour to handover to the LAF this first batch of 70 Land Rovers. These vehicles will provide the Land Border Regiments with much needed off-road mobility. I know that another 94 will arrive in Lebanon before the end of the year, along with secure VHF radios, 1,500 sets of body armour to protect the troops, and fixed and mobile observation towers to protect and reassure border communities. This is the UK's largest project with the LAF, and we are proud to be able to support Lebanon's stability in these very uncertain times'.
Brigadier General Maroun Hitti, Deputy Chief of Staff Plans of the Lebanese Armed Forces said: 'The mission of the Land Border Regiments is to defend and control the land borders, to facilitate the legitimate movement of goods and people, and to reassure and protect border communities. The LAF works hand in hand with other security agencies to reinforce state authority in a challenging and complex environment. The equipment and training being provided by the UK gives us the key capabilities we require. What is important now is to deploy these capabilities to full effect in the field as quickly as possible.'
Ambassador Fletcher said: 'Our message to Lebanon is that the UK is a strong partner and believer in Lebanon's stability. We are ready to help not with words but with actions. Our practical support for Lebanon's stability has increased tenfold over the last two years. We are determined to be a key ally in assisting Lebanon to confront and overcome the challenges this nation is facing.'
Document information
Published: 10 December 2013