News story
UK defence companies seek partnership opportunities at IDEX
More than 50 UK defence companies are set to promote their services and equipment, and seek potential partners, at the Gulf largest defence show.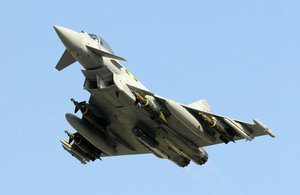 The UK's Minister of Defence Equipment, Science and Technology, Philip Dunne, is leading a delegation of 7 armed forces officers and defence officials to IDEX 2015. IDEX is held in the United Arab Emirates (UAE) and is the largest defence show in the Gulf region.
Philip Dunne said:
I am looking forward to meeting successful UK companies that are exhibiting in the in the United Arab Emirates this week.

The defence partnership between the UK and the UAE is vital to both our interests. I am delighted to have the chance to visit and promote the UK companies who make such as contribution to their customers' defence.
Whilst at the show the Minister will announce the signing of the P3E Capability Enhancement Contract for the RAF's Typhoon aircraft.
This will introduce a number of upgrades to the Eurofighter's mission and maintenance systems. The contract, known as the Phase 3 Capability Enhancement contract, will equip the Eurofighter Typhoon to deploy multiple precision-guided air-to-surface weapons at fast-moving targets with low-collateral damage. It further confirms the aircraft's full multi-role, swing-role capability.
Philip Dunne also said:
I am delighted to be announcing the signing of this capability upgrade. It keeps the Typhoon at the forefront of technology and will give the RAF a cutting edge.

I am also very pleased to be signing this in the Gulf region where 2 countries have already joined us in the Eurofighter family of nations.
One of the UK Royal Navy mine hunters, HMS Shoreham, which is permanently based in the Gulf will also be at the show and will be hosting tours. The ship's divers will also be carrying out mine clearance demonstrations.
Other visiting delegates
Apart from Mr Dunne, also visiting the UAE this week will be:
Assistant Chief of the General Staff, Major General David Cullen
Defence Senior Adviser Middle East, Lieutenant General Tom Becket
Commander (Operations), Rear Admiral Matthew Parr
Asst Chief of Staff, Land & Littoral Manoeuvre, Brigadier Richard Spencer, Royal Marines
Commander, UK Maritime Component Command, Commodore Keith Blount
Head, UKTI Defence and Security Organisation (UKTI DSO), Stephen Phipson
Published 24 February 2015