World news story
UK confirms support for UXO clearance in Laos
Chair of Trustees of Mines Advisory Group Lord Michael Williams visits MAG Lao PDR Country Programme to mark 20 years of operations in Laos.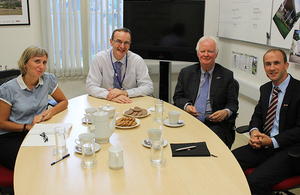 Lord Williams of Baglan, in his role as recently appointed Chair of Trustees of British NGO, the Mines Advisory Group (MAG), made a visit to Vientiane earlier this week to mark MAG's 20th year of operations in the Lao PDR.
During the visit, Lord Williams met HE Dr Thongloun Sisoulith, Deputy Prime Minister and Minister of Foreign Affairs and British Ambassador Philip Malone to discuss the issue of unexploded ordnance (UXO) contamination across Laos. HE Thongloun Sisoulith has demonstrated a strong interest in MAG's work since making an historic visit to MAG's UK headquarters in Manchester in May 2009.
As former Special Advisor to two UK Foreign Secretaries Robin Cook (1999–2001) and Jack Straw (2001–2005), and former Director for the Asia and Pacific Division in the UN Department of Political Affairs, Lord Williams has a wide interest in foreign policy and deep knowledge of Southeast Asia, including as Director of Human Rights in the UN Transitional Administration in Cambodia (UNTAC).
2014 marks the 20th anniversary of MAG operations in Laos. During that time this leading humanitarian operator has released over 44,000,000 square metres of land from UXO contamination and destroyed 180,000 items of UXO, directly benefiting over half a million people.
Through the Department for International Development (DFID), the UK continues to support the clearance of UXO in Laos. The UK government has supported MAG's work in Laos since 1998.
For further information on MAG's work in Laos visit their website here.
Published 9 September 2014