World news story
UK company signs oil deal with Cameroon
Tower Resources Plc. has signed a Production Sharing Contract, offshore Cameroon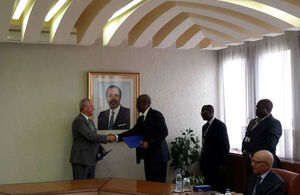 The Thali block Production Sharing Contract (PSC) represents a low cost entry into a mature region with low-risk exploration/appraisal targets and the potential for significant upside. The block is situated offshore in the Rio Del Rey basin and covers a surface area of 119.20 square kilometers.
Tower's initial priority will be the acquisition of 3D seismic in the first half of 2016. The seismic will be used to update the existing 24 year old data set to allow better resolution of shallow plays as well as imaging of deeper sections. Tower expects to be drilling in 2017/18.
The PSC signing ceremony took place on 15 September 2015 at the offices of Société Nationale des Hydrocarbures (SNH) in Yaoundé, Cameroon, in the presence of a delegation which included the Minister of Mines, Industry and Technological Development, His Excellency Mr. Emmanuel Bonde, and the Executive General Manager of SNH, Mr. Adolphe Moudiki.
Read more on Tower Resources website
Published 16 September 2015