World news story
UK calls for timely elections in Lebanon
Holding timely, peaceful and transparent elections, and ensuring there is a quota for women is key to Lebanon's democracy.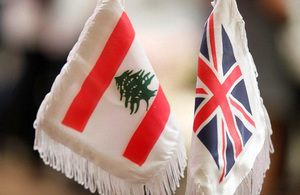 British ambassador to Lebanon Hugo Shorter met with Speaker Nabih Berri and discussed the impending deadline for parliamentary elections.
After the meeting Ambassador Shorter said:
I welcomed the current political momentum that has re-activated Lebanon's institutions and re-energised the strong bilateral cooperation between the UK and Lebanon. Examples of this momentum include the election of the President, formation of the government and reactivation of the parliament.

I hope that momentum can be maintained. In this regard, I would like to highlight recent statements I have co-signed with the International Support Group Ambassadors and EU Ambassadors, encouraging all parties to use the remaining time to reach agreement on the framework for holding timely, peaceful and transparent elections. We also agreed a new law should include a quota for women.

There are 54 days until the expiry of parliament's mandate. Lebanon and its people have long been proud of their democratic tradition. The timely conduct of elections is key to ensuring that is preserved. It is always useful to discuss developments with the Speaker. We will continue to follow discussions on a new electoral law and timing of elections very closely.
Published 28 April 2017