World news story
UK Business Day opens successfully at PROMOTE 2014
Cameroon's Ministers of Finance and SMEs chair UKinPROMOTE Conference, 'Structuring to enter Emerging Markets'.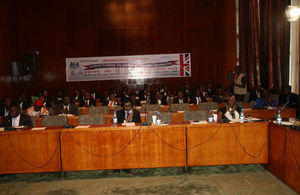 The 2014 PROMOTE UK Business Day Conference was held at the Yaounde Congress Hall on the 12 December 2014. The event had a good turn out by young entrepreneurs, professional business men, heads of businesses in Cameroon, UK businesses and investors.
Cameroon's Ministers of Finance , H.E. Alamine Ousman Mey and Small and Mediun Sized Enterprises, H.E. Laurent Serge Etoundi Ngoa presided over the event. The eminent academic, Chevening and Commonwealth scholar,Prof. Jean Emmanuel Pondi moderated the event.
The British High Commissioner to Cameroon, H.E.Brian Olley addressed the participants at the conference and was pleased at the turnout of UK businesses at PROMOTE . He said:
I am delighted with the strong participation of British companies at PROMOTE. We have businesses in technology, education, business incubation, manufacturing, oil gas, mining and of course that national sustenance- GUINNESS.
The fight against corruption also featured in the discussions in the conference with businesses and all present encouraged shunning corruption if Cameroon is to become an emerging economy.
Cameroon's Minister of Finance, H.E. Alamine Ousman Mey, speaking on this said:
money is important in any economy but the way we look for it should be proper. We are still suffering a lot from corruption. The government of Cameroon is fighting it and we hope the young audience at the conference also got the message to shun corruption.
H.E. Laurent Serge Etoundi Ngoa, Small and Medium Sized Enterprises minister applauded the use of theatre to pass through the anti corruption message at the conference. He said:
We had a very interesting panel which talked of key issues in our society and we are very glad to meet the youths here.
Imminent academic and Commonwealth alumnus, Prof. Pondi , called on the youth to take back the anti-corruption message, adding that:
Anybody who wishes to go anywhere in life has to be straight in their dealings. That is the lone way to earn the respect of everyone.
The UK Business Day at PROMOTE 2014 ended with a dinner hosted at the British High Commissioner's residence by her Majesty's representative to Cameroon, H.E. Brian Olley.
Published 16 December 2014