World news story
UK announces further £100m for Syrian crisis
This announcement cements the UK's position as one of the largest donors in providing support to those who are affected by the war in Syria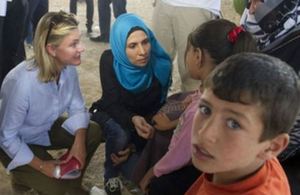 International Development Secretary, Justine Greening, announced on 2 July a further £100m in aid for Syrian refugees and the countries hosting them.
This announcement cements the UK's position as one of the largest donors worldwide in providing support to those whose lives have been affected by the war in Syria. In Jordan, the UK is standing shoulder to shoulder with the Jordanian communities that are so generously hosting large numbers of Syrian refugees. Since the start of the Syria crisis we have provided more than £220 million in support, providing support to programmes that reduce pressure on Jordanian schools, provide services and help municipal governments manage the demands of higher population numbers, such as via the purchase of new waste management equipment.
Investing in service provision, education, jobs and resilience in Jordan is clearly in Britain's interests. Instability in Jordan would inevitably affect the UK. This announcement shows that the UK is partnering with Jordan in the long-term to help maintain its resilience. This year alone we will be spending more than £70 million ($110 million) in Jordan, helping improve school facilities in Jordanian communities, supporting small businesses to grow and provide jobs, providing shelter and healthcare in refugee communities, and strengthening the provision of essential services like clean water.
Published 7 July 2015